Wireless RF Transmitter


Mod
Extra Utilities 2
Type
Solid block
Properties
Blast resistance
5
Hardness
1
The Wireless RF Transmitter is a block added by Extra Utilities 2.
The Wireless RF Transmitter draws Redstone Flux energy from a Wireless RF Battery and distributes the power wirelessly to energy consumers within a 4 block radius. The transfer is limited to 80 RF/t per connection and consumes 1 GP each. When right-clicked, the Wireless RF Transmitter will briefly display red particles to indicate connections to energy consumers and display the total number of connections in chat.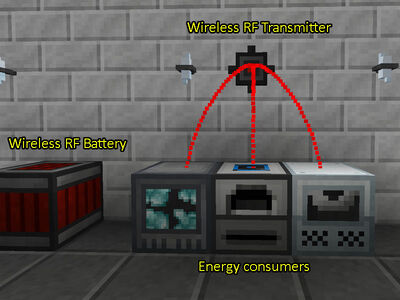 Recipe
Extra Utilities 2
 

Blocks

GP generators

RF generators

Spikes

Drums

Trash Cans

Transfer

Misc devices

Terraformer/Climograph

Glass

Decorative

Components
 

Items

Angel Rings

Wands

Sickles

Weapons

Upgrades

Potions

Misc utilities


 

Flat Transfer Node (Fluids)


 

Flat Transfer Node (Items)

Components
 

Misc

Villagers

Enchantments

Trees

Misc