Waterdichte Transportbuizen zijn een type buis van BuildCraft die vloeistoffen transporteren. Op eenzelfde manier transporteren transportbuizen items en energietransportbuizen energie. Deze buizen worden gemaakt door transportbuizen te combineren met Pipe Sealant. Diamanten en obsidiaan transportbuizen hebben geen waterdichte equivalenten.
Verschillende soorten vloeistoffen kunnen niet samen in een buis. Echter, als 2 pompen 2 verschillende soorten vloeistof rondpompen en er is een lege buis nadat 1 van de vloeistoffen erdoor is gegaan dan kan de 2e vloeistof in die lege buis worden gepompt. Wanneer die 2 vloeistoffen een tank bereiken zullen ze zich scheiden en elk een leeg block innemen in de tank als daar plaats voor is. Als er geen plaats is voor de 2e vloeistof dan zal deze terugvloeien en een opstopping in de buis veroorzaken.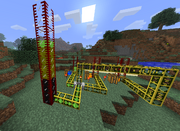 Pipe
Function
Notes



Houten Waterdichte transportbuis

Maakt het mogelijk om vloeistoffen uit een opslagtank of inventaris te pompen.
Heeft een motor of een

Autarchic Gate

nodig die is bevestigd aan de buis om vloeistof uit de inventaris te trekken. De snelheid hangt af van het type motor dat gebruikt wordt.



Keistenen Waterdichte transportbuis

Standaard vloeistof transportbuis.
Sluit niet aan op Stenen Waterdichte Transportbuizen.



Stenen Waterdichte transportbui

Standaard vloeistof transportbuis. Heeft

Steen

nodig.
Sluit niet aan op Keistenen Waterdichte Transportbuizen.



IJzeren Waterdichte transportbuis

Maakt het mogelijk voor meerdere invoerbuizen om uit te voeren in één enkele richting.
De richting die vloeistoffen op gaan kan worden aangepast m.b.v. een

Moersleutel

.



Gouden Waterdichte transportbuis

Kan meer vloeistof transporteren en doet dit sneller dan Keistenen en Stenen Waterdichte transportbuizen.
-



Void Waterdichte transportbuis

Vernietigt vloeistoffen die erdoorheen gaan.
-



Zandstenen Waterdicthe transportbuis

Sluit aan op andere soorten buizen maar niet op machines of inventarissen.
Maakt het mogelijk dat Keistenen en Stenen Transportbuizen op elkaar aansluiten.



Smaragden Waterdichte transportbuis

??
??
BuildCraft
 

Machines

Machines

·  ·  ·  ·  ·  ·  ·  ·  ·  ·  ·  ·  ·  ·  ·  ·  ·  ·  ·  ·  ·

 

·  ·  ·

 
 

Transportation

·  ·  ·  ·  ·  ·  ·  ·  ·  ·  ·  ·  ·  ·  ·  ·

 

·  ·  ·  ·  ·  ·  ·  ·  ·  ·

 

·  ·  ·  ·  ·  ·  ·  ·

 

Other Pipes

·

 

Lenses

·  ·  ·  ·  ·  ·  ·  ·  ·  ·  ·  ·  ·  ·  ·  ·

 

Filter

·  ·  ·  ·  ·  ·  ·  ·  ·  ·  ·  ·  ·  ·  ·  ·

 

Misc

·  ·  ·

 
 

Resources

Liquids

·

 

Chipsets

·  ·  ·  ·  ·  ·  ·

 

·  ·  ·  ·  ·  ·  ·  ·  ·  ·

 

·  ·  ·  ·  ·  ·  ·  ·  ·  ·

 

·  ·  ·  ·  ·  ·  ·  ·  ·  ·

 

·  ·  ·  ·  ·  ·  ·  ·  ·  ·

 

·  ·  ·  ·  ·  ·  ·  ·  ·  ·

 

·  ·  ·

 

·  ·  ·  ·

 

Other

·  ·  ·  ·  ·  ·  ·  ·  ·  ·  ·

 
 

Robots

Robots

·  ·  ·  ·  ·  ·  ·  ·  ·  ·  ·  ·  ·  ·  ·  ·  ·

 

Redstone Boards

·  ·  ·  ·  ·  ·  ·  ·  ·  ·  ·  ·  ·  ·  ·  ·  ·

 
 

Misc

Tools

·

 

Paintbrush

·  ·  ·  ·  ·  ·  ·  ·  ·  ·  ·  ·  ·  ·  ·  ·

 

Biomes

Desert Oil Field

 ·

Ocean Oil Field

 ·  ·