---
Twilight Forest
Huidige ontwikkelaars
Benimatic, Drullkus, Tamaized, Quadraxis, Killer Demon, Squiggly Androsa
Voormalige ontwikkelaars
AtomicBlom, williewillus
Versie
1.12.2: 3.11.1021
1.7.10: 2.3.8
1.7.2: 2.2.3
1.6.4: 1.20.5
1.6.2: 1.19.3
1.5.2: 1.18.2
1.5.1: 1.17.2
1.4.7: 1.16.3
1.4.6: 1.14.0
1.3.2: 1.13.2
1.2.5: 1.9.1
1.2.4: 1.9.1
1.2.3: 1.7.1
1.1: 1.6r2
1.0.0: 1.5rl
Ondersteunde Minecraft versies
1.0.0-1.12.2
URL
Link
Discord server
Link
Modificatiepakketen

FTB Builders Paradise




FTB Academy




All the Mods 3




Direwolf20 (1.7.10)




Unstable 1.7.2




Magic World 2




Monster


Direwolf20 (1.6.4)


FTB Unleashed




FTB Unhinged




Direwolf20 1.5




FTB Ultimate




Direwolf20 Pack




MindCrack Pack




YogCraft Modpack




Magic World




Feed The Beast Beta Pack A
De Twilight Forest mod is een mod gemaakt door Benimatic die een volledig nieuwe dimensie toevoegt aan je Minecraft/Feed The Beast wereld, genaamd The Twilight Forest. Deze dimensie is, zoals de naam al aangeeft, zeer dicht bebost en in een eeuwigdurende schemering gedompeld, waardoor het normale dag-nacht ritme is opgeheven. De dimensie heeft verder nog een wordt een heel groot aantal zeer grote bomen die de wereld eronder verder verduisteren. Het bladerendak wordt af en toe doorbroken door supergrote bomen die reiken tot het dak van de wereld. Het terrein zelf is vlakker, of op z'n minst minder heuvelachtig dan Vanilla Minecraft, met af en toe een heuvel die soms zelfs het bladerendak doorbreekt. Deze heuvels, ofwel Hollow Hills, zijn hol binnenin en huisvesten grotten gevuld met waardevolle grondstoffen (ores), schatten en gevaarlijke monsters.
Behalve dat deze mod een volledig nieuwe dimensie toevoegt, voegt hij ook kerkers (dungeons) en bazen (bosses) toe, alsmede een aantal nieuwe items, bomen en verscheidene mobs.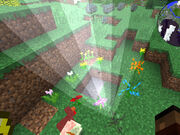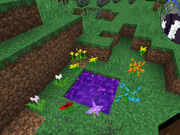 De Twilight Dimensie Betreden
De Twilight Forest dimensie kan worden betreden door een Twilight Forest Portaal te maken. Een plas water van 2x2 en 1 block diep vormt de basis van dit portaal. Verder moet deze plas water omringd worden door "natuurlijke" vegetatie zoals bloemen, gras, boomstekjes en paddestoelen. Wanneer de plas op deze manier volledig is omringd, wordt het portaal afgemaakt door een diamant in het water te gooien (dit is standaard de letter Q). Het water zal paars worden (net als een Nether Portaal) en een bliksemschicht zal het portaal raken, waarbij spelers die vlakbij staan een klein beetje schade oplopen. Spelers kunnen vervolgens reizen naar The Twilight Forest door in het nieuw gemaakte portaal te lopen of te springen. Wanneer het portaal is geactiveerd kunnen de bloemen eromheen verwijderd worden zonder het portaal te breken.
Progression
Hoofdartikel:

Twilight Forest Progression
Het merendeel van de Twilight Forest is een vredelievende biome. Ondanks de eeuwige schemering zullen vijandige mobs niet genereren (spawn) aan de oppervlakte in de Twilight Forest zelf. De voortgang in de mod is gecentreerd rondom een aantal mijlpalen die ertoe dienen om het moeilijkheidsniveau te verhogen door steeds moeilijker wordende ontmoetingen met vijanden en bazen. Zowel items in kisten als items die mobs laten vallen (drops) lonen dan ook steeds meer de moeite bij elk nieuw gebied.
Het is overigens wel belangrijk om te vermelden dat Twilight Forest Portalen geen onderscheid maken in welk gebied ze gecreëerd worden; een nieuw portaal kan de speler neerzetten binnen in een Hollow Hill of zelfs in het hol van een baas. Daarom ook is enige voorzichtigheid en voorbereiding noodzakelijk alvorens je voor de eerste keer een Twilight Forest Portaal betreedt.
Guides
Getting Started with Twilight Forest

Twilight Forest Progression
External links

Template:Navbox Twilight Forest/nl