---
Outdated translations are marked like this.
Twilight Forest
Aktuální vývojáři
Benimatic, Drullkus, Tamaized, Quadraxis, Killer Demon, Squiggly Androsa
Předešlí vývojáři
AtomicBlom, williewillus
Version
1.12.2: 3.11.1021
1.7.10: 2.3.8
1.7.2: 2.2.3
1.6.4: 1.20.5
1.6.2: 1.19.3
1.5.2: 1.18.2
1.5.1: 1.17.2
1.4.7: 1.16.3
1.4.6: 1.14.0
1.3.2: 1.13.2
1.2.5: 1.9.1
1.2.4: 1.9.1
1.2.3: 1.7.1
1.1: 1.6r2
1.0.0: 1.5rl
Podporované verze Minecraftu
1.0.0-1.12.2
URL
Odkaz
Discord server
Odkaz
Modpacky

FTB Academy




All the Mods 3




Direwolf20 (1.7.10)




Nestabilní 1.7.2




Magic World 2




Monster




Direwolf20 (1.6.4)




FTB Unleashed




FTB Unhinged




Direwolf20 1.5




FTB Ultimate




Direwolf20 Pack




MindCrack Pack




YogCraft Modpack




Magic World




Feed The Beast Beta Pack A
Twilight Forest je mód, který vytvořil Benimatic a do verze 1.12.2 přidali AtomicBlom, Drullkus, Tamaized, a williewillus. Přidává titulní Twilight Forest dimenzi. Tato dimenze je silně zalesněný svět plný nových stvoření, stromů, dungeonů a bossů. Úroveň terénu této dimenze je velmi nízká v kvůli na vysokým stromům. Dimenze je uzamčena při západu slunce, i tehdy, kdy je již spánek možný. Stvoření se nevyskytují na povrchu Twilight Forestu, ale v jeskyních a dungeonech. (Neplatí na stvoření z Ender IO Zoo.)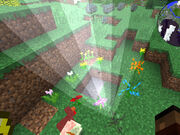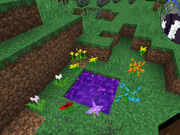 Vstup do Twilightu
Vstup do Twilight Forestu se provádí vytvořením portálu do Twilight Forest. Je zapotřebí díra 2x2 plná vody, 1 blok hluboká; musí být obklopena "přirozenou" vegetací včetně květin, trávy, sazenic, a hub. Poté, co je tento obřad dokončen, stačí do vody vhodit jeden Diamant. Voda se změní na purpurovou (podobně jako v portálu do Netheru), blesk zasáhne portál a způsobí drobné poškození hráčům v okolí. Hráči mohou tak cestovat do Twilight Forestu skokem do nově vytvořeného portálu. Jakmile je portál aktivován, je možné odstranit květiny kolem něj, portál poté zůstane funkční.
Postup
Stěžejní článek:

Postup v Twilight Forest
Většina Twilight Forestu je mírumilovný biom. Díky nastaveným podmínkám se nepřátelská stvoření nevyskytují na povrchu Twilight Forestu. Místo toho je postup módem soustředěn kolem orientačních bodů, které slouží k postupu k těžším a těžším bossům. Kořist a obsah truhel se stupňuje dle obtížnosti dané oblasti.
Portály do Twilight Forest si nevybírají oblast, ve které se objeví; nově vytvořený portál může hráče přivést do vnitřku dutého kopce nebo dokonce do finální místnosti jednoho z bossů Twilight Forestu. Proto by měla být při prvním průchodu portálem Twilight Forest učiněna určitá příprava.
Návody
Začínáme s Twilight Forest

Postup v Twilight Forest
Externí odkazy

Template:Navbox Twilight Forest/cs