Thickened Glass (Bordered)


Mod
Extra Utilities 2
Type
Solid block
Thickened Glass (Bordered) is a block from Extra Utilities 2. It is a decorative variant of Thickened Glass. It uses connected textures to create glass that is completely transparent except for its outer border; the difference between it and regular Thickened Glass is a double-thick border.
The glass will shatter and be destroyed when broken without the aid of Silk Touch tools or a specialized tool such as the Glass Cutter.
Recipe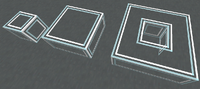 Extra Utilities 2
 

Blocks

GP generators

RF generators

Spikes

Drums

Trash Cans

Transfer

Misc devices

Terraformer/Climograph

Glass

Decorative

Components
 

Items

Angel Rings

Wands

Sickles

Weapons

Upgrades

Potions

Misc utilities


 

Flat Transfer Node (Fluids)


 

Flat Transfer Node (Items)

Components
 

Misc

Villagers

Enchantments

Trees

Misc