This page is about the Terraformer added by Extra Utilities 2. For other uses, see Terraformer.
Terraformer


Mod
Extra Utilities 2
Type
Solid block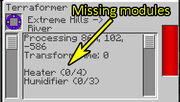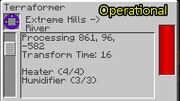 The Terraformer is a block added by Extra Utilities 2. It is the core of a multi-block machine used to change local biomes within a specified area of effect.
Recipe
When supplied with an activated Biome Marker and the Range slider set to non-zero, the Terraformer will analyze the specified area of effect. If any additional modules are required, it will list them in the GUI. Modules do not have to be adjacent to the Terraformer but must:
Be placed within a 4 block range of the Terraformer
Be connected to RF power
Have an Antenna on top
Be supplied with appropriate materials.
Once all required modules are ready, the Terraformer will begin the slow process of changing the biome. When active, the module antenna(s) will glow colorfully. The Terraformer does not convert blocks, it only changes the Biome data associated with the coordinates in the specified area.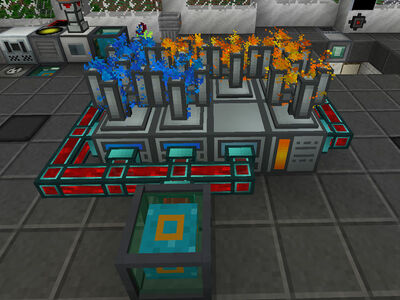 Required Materials
Each Terraformer module requires fuel in addition to RF power. This fuel is measured in units of TF.
Extra Utilities 2
 

Blocks

GP generators

RF generators

Spikes

Drums

Trash Cans

Transfer

Misc devices

Terraformer/Climograph

Glass

Decorative

Components
 

Items

Angel Rings

Wands

Sickles

Weapons

Upgrades

Potions

Misc utilities


 

Flat Transfer Node (Fluids)


 

Flat Transfer Node (Items)

Components
 

Misc

Villagers

Enchantments

Trees

Misc