Fire Emblem Warriors: Three Hopes - The Loop
Play Sound
This page is about the Stone Chestplate added by Tiny Progressions. For other uses, see Stone Chestplate.
Stone Chestplate


Mod
Tiny Progressions
Type
Armor
Properties
Armor rating
4 ()
Durability
240
Stackable
No
The Stone Chestplate is an armored Chestpiece added by Tiny Progressions. Wearing any Stone Armor gives the player the Slowness effect.
Recipe
The ice cubes indicate the Slowness effect given when wearing Stone Armor.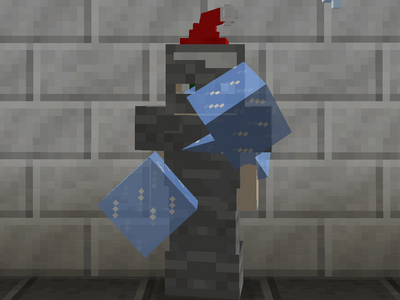 Tiny Progressions
 

Blocks

Ores

·  ·

 

Functional

·  ·  ·  ·  ·  ·

 

Storage Block

·  ·  ·  ·  ·  ·  ·  ·

 

Decorative

·  ·  ·  ·  ·  ·  ·  ·  ·  ·  ·  ·  ·  ·  ·  ·  ·  ·  ·  ·  ·  ·  ·  ·

 

Fluid
 

Items

Armor

Wood

·  ·  ·

 

Bone

·  ·  ·

 

Flint

·  ·  ·

 

Stone

·  ·  ·

 

Quartz

·  ·  ·

 

Lapis

·  ·  ·

 

Redstone

·  ·  ·

 

Emerald

·  ·  ·

 

Magma

·  ·  ·

 

Obsidian

·  ·  ·

 

Wither

·  ·  ·

 

Dragon

·  ·  ·

 

Tools and Weapons

Wood

·  ·  ·  ·

 

Bone

·  ·  ·  ·

 

Flint

·  ·  ·  ·  ·  ·  ·

 

Netherrack

·  ·  ·  ·

 

Stone

·  ·  ·  ·

 

Iron

·  ·  ·

 

·  ·  ·  ·

 

·  ·  ·  ·

 

Gold

·  ·  ·  ·

 

·  ·  ·  ·

 

·  ·  ·  ·

 

Diamond

·  ·  ·  ·

 

·  ·  ·  ·

 

·  ·  ·  ·

 

Emerald

·  ·  ·  ·  ·  ·  ·  ·  ·  ·

 

Obsidian

·  ·  ·  ·  ·  ·  ·  ·  ·

 

Wub

·  ·  ·  ·  ·  ·  ·

 

Miscellaneous

·  ·  ·  ·  ·  ·  ·  ·

 

Materials

·  ·  ·  ·  ·  ·  ·  ·  ·  ·  ·  ·

 

Components

·  ·  ·  ·  ·

 

Food

Fruits

·  ·  ·  ·  ·

 

Juices

·  ·  ·  ·  ·  ·  ·  ·  ·  ·  ·  ·  ·  ·  ·

 

Sandwiches

·  ·  ·  ·

 

Magical Apples

·  ·  ·  ·

 

Other

·  ·  ·  ·  ·  ·  ·  ·  ·  ·  ·  ·

 

Healing

·  ·  ·

 

Miscellaneous

·  ·

 
Removed
·  ·  ·  ·  ·  ·  ·