Stimpack


Mod
HermitQuest
Type
Component
The Stimpack is a block added by HermitQuest. It is used to summon the Hermit Xisuma.
Location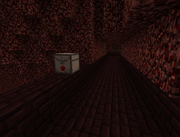 The Stimpack can rarely appear in Nether Fortresses. It can appear anywhere in the fortress, but always standing on a nether brick block.
The Stimpack is an openable chest.
Trivia
The Stimpack was chosen as the item to spawn Xisuma because his skin is a character from the Doom game. The Stimpack is a health recovery item from the same game.
HermitQuest

Hermits

cubfan135

falsesymmetry

Goodtimewithscar

Hypnotizd_

ijevin

impulse

iskall85

Jessassin

joehillssays

KingDaddyDMAC

PythonGB

Renthedog

Welsknight

xBCrafted

Xisuma

ZombieCleo

zueljin

Blocks


 

Coffee Mug


 

Crown in Stone


 

Biffa's Tea Cup


 

Processed Iskallium


 

Jellie


 

Orange Sponge

Items


 

Throwable Golden Apple


 

Throwable Torch


 

Golden Crown


 

Knight's Helmet


 

Fang