Dead Cells Final DLC - The Loop
Play Sound
This page is about the RedPower 2 Sorting Machine. For other uses, see Sorting Machine.
Sorting Machine


Mod
RedPower 2
Type
Machine
The sorting machine is a mid-game item added by RedPower 2. It is used to sort items and blocks to different places. More information in Usage below.
Recipe
Usage
The sorting machine is a block that is used in conjunction with pneumatic tubes. The sorting machine can take input through pneumatic tubes or by automatically pulling from an adjacent inventory. It must be powered using Blutricity.
Interface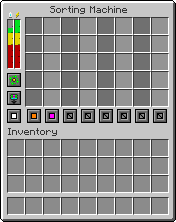 In the top-left corner, the Blutricity charge is displayed.
The first button below the Blutricity charge changes the way the sorting machine accepts items:
Single Step: Will not do anything automatically, but will pull one item from an adjacent inventory for every redstone signal it receives.
Automatic: Automatically pulls from an adjacent inventory.
Single Sweep: For use with a slider mode, will remember redstone signals and complete one full rotation per redstone pulse.
The second button changes the way in which the sorting machine processes items:
RedPower 2
 

Resources

Raw

·  ·  ·  ·  ·  ·  ·  ·  ·

 

Metals/Gems

Ingots

·  ·

 

Nuggets

·  ·  ·

 

Gems/Dusts

·  ·  ·

 

Storage Blocks

·  ·  ·  ·  ·

 

Alloys

·  ·  ·  ·  ·  ·

 

Refined

·  ·  ·  ·

 

Decorative

·  ·  ·  ·

 

Plants

·  ·  ·

 
 

Machines

Tubes

·  ·  ·  ·

 

Machines

Tube

·  ·  ·  ·  ·  ·  ·  ·

 

Others

·  ·  ·  ·

 

Frames

·  ·  ·

 

FORTH Computers

Items

·  ·  ·

 

Blocks

·  ·  ·  ·  ·  ·  ·

 
 

Redstone Logic

Logic Components

·  ·  ·  ·  ·  ·  ·  ·  ·

 

Wires

 

Basic Logic Gates

·  ·  ·  ·  ·  ·  ·

 

Complex Logic Circuits

·  ·  ·  ·  ·  ·  ·  ·  ·  ·  ·  ·

 

Crossing Wires

·  ·

 
 

Lighting

Lumar

·  ·  ·  ·  ·  ·  ·  ·  ·  ·  ·  ·  ·  ·  ·

 

Lamps

Normal

·  ·  ·  ·  ·  ·  ·  ·  ·  ·  ·  ·  ·  ·  ·

 

Inverted

·  ·  ·  ·  ·  ·  ·  ·  ·  ·  ·  ·  ·  ·  ·

 

Fixtures

Normal

·  ·  ·  ·  ·  ·  ·  ·  ·  ·  ·  ·  ·  ·  ·

 

Inverted

·  ·  ·  ·  ·  ·  ·  ·  ·  ·  ·  ·  ·  ·  ·

 

Cage Lamps

Normal

·  ·  ·  ·  ·  ·  ·  ·  ·  ·  ·  ·  ·  ·  ·

 

Inverted

·  ·  ·  ·  ·  ·  ·  ·  ·  ·  ·  ·  ·  ·  ·

 
 

Blutricity

Components

·  ·

 

Wires

 

Generators

·  ·

 

Storage

·  ·

 

Machines

·  ·  ·  ·  ·  ·  ·

 
 

Utility

·  ·  ·  ·  ·  ·

 

·  ·  ·  ·  ·  ·

 

·  ·  ·  ·  ·  ·

 

Other Sickles

·  ·  ·  ·

 

·

 

Paint

Brushes

·  ·  ·  ·  ·  ·  ·  ·  ·  ·  ·  ·  ·  ·  ·  ·

 

Cans

·  ·  ·  ·  ·  ·  ·  ·  ·  ·  ·  ·  ·  ·  ·  ·

 

Canvas Based

·  ·  ·  ·  ·

 

Misc

·  ·  ·  ·  ·

 

Enchantments