Raise a Floppa - The Loop
Play Sound
This page is about the Shaft added by RotaryCraft. For other uses, see Shaft.
Shaft






Mod
RotaryCraft
Type
Machine
Shafts are a set of simple RotaryCraft machines used to transmit Shaft Power one block in a straight line.
Recipe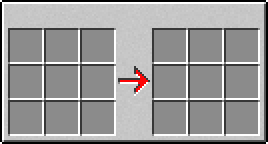 Usage
Shafts are analogous to cables from mods that use electricity as a form of power, in that they are used to transmit Shaft Power from an engine to a machine. Shafts have an input side and an output side, can face any of the six directions, and will not interact with any blocks that are not directly in front of or behind them. No power is lost going through a Shaft; it outputs exactly what it receives. A Screwdriver is used to rotate Shafts.
Shafts can be made of Wood, Stone Steel, Diamond or Bedrock. The material of the Shaft determines the maximum Speed and Torque it can handle. If a Shaft receives power at a Speed or Torque greater than these limits, the Shaft will break but its Mount will remain in the world and can be retrieved (as 5 Planks for Wood, 5 Stone Slabs for Stone, or 1 Mount for Steel/Diamond/Bedrock) and re-used.
| Shaft | Max Torque (Nm) | Max Speed (Rad/s) |
| --- | --- | --- |
| Wood | 278 | 3577 |
| Stone | 958 | 11561 |
| Steel | 6711 | 57005 |
| Diamond | 69508 | 412148 |
| Bedrock | Infinite | Infinite |
Shafts can also be used to transmit Shaft Power through Portals. If a Shaft is connected to a Nether, End, Mystcraft, or Twilight Forest Portal, another Shaft can be placed on the other side of the portal and will receive that power. However, as this does not force chunk loading, power will not be sent through the portal unless both sides are loaded through some means.
RotaryCraft
 

Blocks

Generators

·  ·  ·  ·  ·  ·  ·  ·  ·  ·  ·  ·  ·  ·  ·  ·

 

Power Transfer

Shafts

·  ·  ·  ·

 

Gearboxes

2:1

·  ·  ·  ·

 

4:1

·  ·  ·  ·

 

8:1

·  ·  ·  ·

 

16:1

·  ·  ·  ·

 

Other

·  ·  ·  ·  ·  ·  ·  ·  ·  ·  ·  ·  ·

 

Machines

Production

·  ·  ·  ·  ·  ·  ·  ·  ·  ·

 

Processing

·  ·  ·  ·  ·  ·  ·  ·  ·  ·  ·  ·  ·

 

Farming

·  ·  ·  ·  ·  ·  ·  ·

 

General

·  ·  ·  ·  ·  ·  ·  ·  ·  ·

 

Defense

·  ·  ·  ·  ·  ·  ·  ·  ·  ·  ·  ·  ·  ·  ·

 

Surveying

·  ·  ·  ·

 

Cosmetic

·  ·  ·  ·  ·  ·

 

Utility

·  ·  ·  ·  ·  ·  ·  ·  ·  ·  ·  ·  ·  ·  ·  ·  ·  ·  ·  ·  ·

 

Transport

·  ·  ·  ·  ·  ·

 

General

·  ·  ·  ·  ·

 
 

Items

Tools

General

·  ·  ·  ·  ·  ·  ·  ·  ·  ·  ·  ·  ·  ·  ·  ·  ·  ·  ·  ·  ·  ·  ·  ·  ·

 

Jetpacks

·

 

HSLA Steel

Tools

·  ·  ·  ·  ·  ·

 

Armor

·  ·  ·

 

Bedrock

Tools

·  ·  ·  ·  ·  ·

 

Armor

·  ·  ·  ·

 

Resources

·  ·  ·  ·  ·  ·  ·  ·  ·  ·  ·  ·  ·  ·  ·  ·  ·  ·  ·  ·  ·  ·  ·  ·  ·  ·  ·  ·  ·  ·  ·  ·  ·

 

Fluids

·  ·  ·

 

Components

·  ·  ·  ·  ·  ·  ·  ·  ·  ·  ·  ·  ·  ·  ·  ·  ·  ·  ·  ·  ·  ·  ·  ·  ·  ·  ·  ·  ·  ·  ·  ·  ·  ·  ·  ·  ·  ·  ·  ·  ·  ·  ·  ·  ·  ·  ·  ·  ·  ·  ·  ·  ·  ·  ·  ·  ·  ·  ·  ·  ·  ·  ·  ·  ·  ·  ·  ·  ·  ·  ·  ·  ·  ·

 

Upgrades

·  ·  ·  ·  ·  ·  ·  ·