Fire Emblem Warriors: Three Hopes - The Loop
Play Sound
Sequencer


Mod
RF Tools
Type
Machine
The Sequencer is a Redstone logic machine added by RFTools. It is used to send a pre-programmed sequence of Redstone logic pulses in response to a signal.
Recipe
Sequencer Interface
The Sequencer's interface consists of an 8x8 grid of dots that represent logical ON/OFF states, Clear and Fill buttons that turn all the dots on or off, a mode selector and a delay setting. The mode selector offers 8 choices:
Once1 - Runs the sequence only once. Ignores further input until the sequence is complete.
Once2 - Runs the sequence only once. Restarts if another input arrives.
Loop1 - Run the sequence on a continuous loop. Ignore all inputs.
Loop2 - Run the sequence continuously, restarting on input pulses.
Loop3 - Run the sequence while input signal is high. Remember position and resume.
Loop4 - Run the sequence while input is high. Restart on no signal.
Step - Step through the sequence, progressing one step with each input pulse.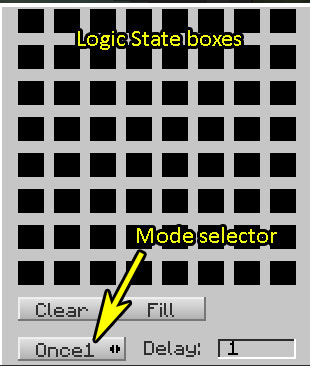 Further information
For further information on using RFTools to process Redstone logic, see the guide RFTools Redstone Logic.
RFTools
 

Resources

Ores


 

Dimensional Shard Ore (Nether)


 

Dimensional Shard Ore (End)

Raw
 

Blocks

Machines

Creative

Energy

Matter

Shield

Storage


 

Modular Storage


 

Remote Storage


 

Storage Scanner


 

Storage Terminal

Other


 

Inventory Checker


 

Level Emitter


 

Liquid Monitor


 

Locator


 

Projector


 

Security Manager


 Sequencer

 

Space Chamber Controller Block


 

Space Chamber Corner Block
 

Items

Cards

Cards


 

Orphaning Card


 

Security Card


 

Space Chamber Card

Shape cards


 

Shape Card (Clearing Pump)


 

Shape Card (Pump)


 

Shape Card (Void)

Items


 

Developers Delight


 

Modifier


 

Peace Essence


 

Teleporter Probe

Modules

Entities


 

Blindness Module


 

Feather Falling Module


 

Feather Falling Plus Module


 

Flight Module


 

Glowing Module


 

Haste Module


 

Haste Plus Module


 

Luck Module


 

Night Vision Module


 

No Teleport Module


 

Peaceful Module


 

Poison Module


 

Regeneration Plus Module


 

Saturation Module


 

Saturation Plus Module


 

Slowness Module


 

Speed Module


 

Speed Plus Module


 

Water Breathing Module


 

Weakness Module

Machines


 

Button Module


 

Clock Module


 

Computer Module


 

Counter Module


 

Counter Plus Module


 

Dump Module


 

Energy Plus Module


 

Fluid Module


 

Fluid Plus Module


 

Inventory Module


 

Inventory Plus Module


 

Machine Information Module


 

Text Module

Storage


 

Generic Storage Module


 

Ore Dictionary Storage Module


 

Remote Storage Module


 

Storage Control Module


 

Storage Filter Module


 

Storage Module Tier 1


 

Storage Module Tier 2


 

Storage Module Tier 3

Tools
 

Guides

Guides


 

RFTools Manual


 

RFTools Shape Manual