Fire Emblem Warriors: Three Hopes - The Loop
Play Sound
This information pertains to an older version of the mod. This item was removed in Project Red version v4.7.0pre6.
Routed Extension Pipe


Mod
Project Red
Type
Solid block
Required modules
Transportation
The Routed Extension pipe is a block added by Project Red. It allows, in conjunction with the Routed Crafting pipe and the Data Card, extremely complex production systems with other machines (see Usage). As of version v4.7.0pre6 it has been deprecated.
If the mod MineChem is installed, the Routed Extension Pipe can be decomposed with the Chemical Decomposer into different chemical compounds of MineChem.
Recipe
Usage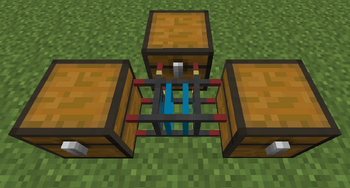 The Routed Extension Pipe connects with all other pipes from Project Red as well as with Chests and machines. If more than one Chest or machine is adjacent to the pipe, only one of these Chests or machines will be connected to the pipe (show in the picture). The active connection can be switched by using a Screwdriver.
The Routed Extension Pipe is a specific pipe for filling certain slots of machines. Therefore, the Routed Extension pipe is triggered by the Routed Crafting pipe. For example if an automatic crafting command will fill up a furnace with Coal and Fish to produce Cooked Fish, then the player must place one Routed Extension pipe on the bottom and one at the top of the furnace to connect setup to the pipe system. In the top slot in the GUI of the Routed Extension Pipe, the player must place a Data Card to store the coordinates of the pipe. This Data Card will be issued immediately in the lower slot. Place this Data Card (with the coordinates of the pipe) in the Routed Crafting pipe to program the crafting process.
Project Red
 

Items

Ores

·  ·  ·  ·  ·  ·

 

Raw Resources

·  ·  ·  ·  ·  ·  ·  ·  ·  ·  ·  ·  ·  ·  ·  ·  ·

 

Refined Resources

·  ·  ·  ·  ·  ·  ·  ·  ·

 

Components

·  ·  ·  ·  ·  ·  ·  ·  ·  ·  ·  ·  ·  ·  ·  ·  ·

 

Upgrades

·  ·  ·  ·  ·

 

Chips

·  ·  ·  ·  ·  ·  ·  ·

 

Illumar

·  ·  ·  ·  ·  ·  ·  ·  ·  ·  ·  ·  ·  ·  ·

 
 

Armor

Helmets

·  ·

 

Chestplates

·  ·

 

Leggings

·  ·

 

Boots

·  ·

 
 

Tools

Swords

·  ·  ·

 

Pickaxes

·  ·

 

Shovels

·  ·

 

Axes

·  ·

 

Hoes

·  ·

 

Saws

·  ·  ·

 

Sickles

·  ·  ·  ·  ·  ·  ·

 

Utility

·  ·  ·  ·  ·  ·  ·  ·  ·  ·  ·

 

Backpacks

·  ·  ·  ·  ·  ·  ·  ·  ·  ·  ·  ·  ·  ·  ·

 
 

Blocks

Decorative Blocks

·  ·  ·  ·

 

Machines

·  ·  ·  ·  ·  ·  ·  ·  ·  ·  ·  ·  ·  ·  ·  ·  ·

 

Stained Leaf Blocks

·  ·  ·  ·  ·  ·  ·  ·  ·  ·  ·  ·  ·  ·  ·

 

Logic Gates

·  ·  ·  ·  ·  ·  ·  ·  ·  ·  ·  ·  ·  ·  ·  ·  ·  ·  ·  ·  ·  ·  ·  ·  ·  ·  ·  ·  ·  ·  ·  ·  ·  ·

 

Pipes

·  ·  ·  ·  ·  ·  ·  ·

 

Tubes

·

 

Walls

·  ·  ·  ·  ·  ·  ·  ·  ·  ·  ·

 
 

Wiring

Redstone Wire

Standard/Insulated

·  ·  ·  ·  ·  ·  ·  ·  ·  ·  ·  ·  ·  ·  ·  ·

 

Bundled

·  ·  ·  ·  ·  ·  ·  ·  ·  ·  ·  ·  ·  ·  ·  ·

 

Framed

·  ·  ·  ·  ·  ·  ·  ·  ·  ·  ·  ·  ·  ·  ·  ·  ·

 

Power Lines
 

Lighting

Lamps

·  ·  ·  ·  ·  ·  ·  ·  ·  ·  ·  ·  ·  ·  ·

 

Inverted Lamps

·  ·  ·  ·  ·  ·  ·  ·  ·  ·  ·  ·  ·  ·  ·

 

Lanterns

·  ·  ·  ·  ·  ·  ·  ·  ·  ·  ·  ·  ·  ·  ·

 

Inverted Lanterns

·  ·  ·  ·  ·  ·  ·  ·  ·  ·  ·  ·  ·  ·  ·

 

Illumar Buttons

·  ·  ·  ·  ·  ·  ·  ·  ·  ·  ·  ·  ·  ·  ·

 

Illumar Feedback Buttons

·  ·  ·  ·  ·  ·  ·  ·  ·  ·  ·  ·  ·  ·  ·

 

Cage Lamps

·  ·  ·  ·  ·  ·  ·  ·  ·  ·  ·  ·  ·  ·  ·

 

Inverted Cage Lamps

·  ·  ·  ·  ·  ·  ·  ·  ·  ·  ·  ·  ·  ·  ·

 

Fallout Lights

·  ·  ·  ·  ·  ·  ·  ·  ·  ·  ·  ·  ·  ·  ·

 

Inverted Fallout Lights

·  ·  ·  ·  ·  ·  ·  ·  ·  ·  ·  ·  ·  ·  ·

 

Fixtures

·  ·  ·  ·  ·  ·  ·  ·  ·  ·  ·  ·  ·  ·  ·

 

Inverted Fixtures

·  ·  ·  ·  ·  ·  ·  ·  ·  ·  ·  ·  ·  ·  ·

 
 

Other

Liquids

·

 

Stained Saplings

·  ·  ·  ·  ·  ·  ·  ·  ·  ·  ·  ·  ·  ·  ·

 

Deviating Lily

·  ·  ·  ·  ·  ·  ·  ·  ·  ·  ·  ·  ·  ·  ·

 

Deviating Lily Seeds

·  ·  ·  ·  ·  ·  ·  ·  ·  ·  ·  ·  ·  ·  ·

 

Other World