Redstone Comp Chipset


Mod
BuildCraft
Type
Component
The Redstone Comp Chipset is a component addey by BuildCraft. While not usable itself, it is a fundamental component of Redstone Fader Gates, and thus many BuildCraft automation techniques (see Usage).
Recipe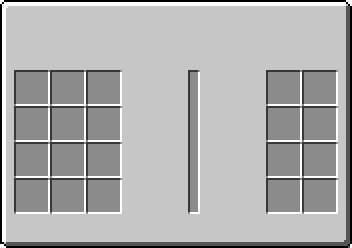 Usage
The Redstone Comp Chipset can be combined in the Integration Table with any AND and OR Gate to upgrade that Gate into its Redstone Fader version. A Pulsating Chipset and an Iron AND Gate, thus, will become an Redstone Fader Iron AND Gate. This process always consumes 25,000 RF.
BuildCraft
 

Machines

Machines

·  ·  ·  ·  ·  ·  ·  ·  ·  ·  ·  ·  ·  ·  ·  ·  ·  ·  ·  ·  ·

 

·  ·  ·

 
 

Transportation

·  ·  ·  ·  ·  ·  ·  ·  ·  ·  ·  ·  ·  ·  ·  ·

 

·  ·  ·  ·  ·  ·  ·  ·  ·  ·

 

·  ·  ·  ·  ·  ·  ·  ·

 

Other Pipes

·

 

Lenses

·  ·  ·  ·  ·  ·  ·  ·  ·  ·  ·  ·  ·  ·  ·  ·

 

Filter

·  ·  ·  ·  ·  ·  ·  ·  ·  ·  ·  ·  ·  ·  ·  ·

 

Misc

·  ·  ·

 
 

Resources

Liquids

·

 

Chipsets

·  ·  ·  ·  ·  ·  ·

 

·  ·  ·  ·  ·  ·  ·  ·  ·  ·

 

·  ·  ·  ·  ·  ·  ·  ·  ·  ·

 

·  ·  ·  ·  ·  ·  ·  ·  ·  ·

 

·  ·  ·  ·  ·  ·  ·  ·  ·  ·

 

·  ·  ·  ·  ·  ·  ·  ·  ·  ·

 

·  ·  ·

 

·  ·  ·  ·

 

Other

·  ·  ·  ·  ·  ·  ·  ·  ·  ·  ·

 
 

Robots

Robots

·  ·  ·  ·  ·  ·  ·  ·  ·  ·  ·  ·  ·  ·  ·  ·  ·

 

Redstone Boards

·  ·  ·  ·  ·  ·  ·  ·  ·  ·  ·  ·  ·  ·  ·  ·  ·

 
 

Misc

Tools

·

 

Paintbrush

·  ·  ·  ·  ·  ·  ·  ·  ·  ·  ·  ·  ·  ·  ·  ·

 

Biomes