Raise a Floppa - The Loop
Play Sound
This page is about the Redstone Clock from Cyclic. For other uses, see Redstone Clock.
Redstone Clock


Mod
Cyclic
Type
Tile entity
Properties
Blast resistance
6
Hardness
2
TC6 Aspects



51




45




11




8
The Redstone Clock is a tile entity added by Cyclic. It is used to create a constant pattern of Redstone signals.
Recipe
GUI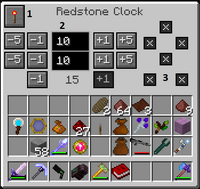 Toggles between requiring Redstone (
) or always on (
).
In descending order: duration of signal (in ticks), duration of delay (in ticks), and signal strength.
Sets faces that will emit the signal. Top 4 correspond to the 4 cardinal directions, lower left and lower right buttons are for the bottom and top faces respectively.
Cyclic
 

Blocks

Devices

·  ·  ·  ·  ·  ·  ·  ·  ·  ·  ·  ·  ·  ·  ·  ·  ·  ·  ·  ·  ·  ·  ·  ·  ·  ·  ·  ·  ·  ·  ·  ·  ·  ·  ·  ·  ·  ·  ·  ·  ·  ·  ·  ·  ·  ·  ·  ·  ·  ·  ·  ·  ·  ·  ·

 

Ores

·  ·  ·  ·  ·  ·  ·  ·  ·  ·  ·  ·  ·

 

Spikes

·

 

Conveyor Belts

·  ·  ·

 

Slime Plate

·  ·  ·

 

Scaffolding

·  ·

 

Transfer

·  ·  ·  ·  ·  ·  ·  ·  ·  ·

 

Storage

·  ·  ·  ·

 

Misc

·  ·  ·  ·

 
 

Items

Tools

Crystal

·  ·  ·  ·

 

Emerald

·  ·  ·  ·

 

Nether

·  ·  ·

 

Sandstone

·  ·  ·  ·

 

World Manipulation

·  ·  ·  ·  ·  ·  ·  ·  ·  ·  ·  ·  ·  ·  ·

 

Weapons

·  ·  ·  ·  ·  ·  ·  ·  ·

 

Movement

·  ·  ·  ·  ·  ·  ·

 

World Search

·  ·  ·  ·

 

Inventory

·  ·  ·  ·  ·  ·

 

Utility

·  ·  ·  ·  ·  ·  ·  ·  ·  ·  ·  ·  ·  ·  ·  ·  ·  ·  ·  ·

 

Armor

Emerald

·  ·  ·

 

Crystallized Obsidian

·  ·  ·

 

Misc

·  ·  ·  ·  ·  ·  ·

 

Potions

·  ·  ·  ·  ·  ·  ·  ·  ·  ·  ·  ·  ·  ·  ·  ·  ·

 

Crops

·

 

Horse Food

·  ·  ·  ·  ·  ·

 

Ingredients

·  ·

 

Dynamite

·  ·

 

Carts

·  ·  ·  ·

 

Fluids

·  ·  ·  ·  ·

 

Fuel

·

 

Misc

Unused
 

Other

Enchantments

·  ·  ·  ·  ·  ·  ·  ·  ·  ·  ·

 

Villagers