Patchwork is a Forge to Fabric crossover project where Forge mods are made compatible with a Fabric-modded environment. The project currently only supports 1.14.4 Forge mods in a 1.14.4 Fabric environment. Its modules can be found on the official website. This is not the same as Liteloader mods working naturally alongside Forge, but is the closest to Fabric and Forge mod compatibility.
The steps to set up a Patchwork environment require a bit more effort to setup then just a loader with Forge or Fabric with its loader and API; Patchwork requires creating additional folders in the mods folder and the Patchwork Patcher for an In and Out (inside In and Out named folders) patching process.
Instructions
Download the Patchwork Patcher from its GitHub page.
Move the Forge mods from the \mods folder to another folder (e.g., create a folder named "forge_mods").
Double-click the downloaded .jar file (Patchwork Patcher).
Select the other folder as the input folder; the output folder can be the modpack's \mods folder.
Click "Patch".
Download the Patchwork API and put it in the mods folder of the modpack.
Launch the modpack and play.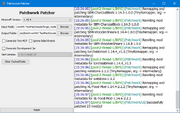 A notice regarding why the modpack is complicated and does not contain patched versions of Forge mods says:
| | | |
| --- | --- | --- |
| " | Because it is not allowed to upload my modpack with already patched versions of the Forge mods. patchwork API is not on Curseforge too, so it is also not allowed to upload it in modpacks as a custom jar. | " |
Mod .jars that are currently supported are:
BiomesOPlenty-1.14.4-9.0.0.262-universal.jar
campfiretorches-1.14.4-1.0.3.jar
lightestlamp-2.0.2.jar
luckyores-1.14.4-1.3.1.jar
mcw-bridges-1.0.4-mc1.14.4.jar
mcws-furniture-1.0.1-mc1.14.4.jar
mcws-win-1.14.4-v1.0.2.jar
mcws-roofs-1.14.4-v2.0.0.jar
mining-helmet-1.14.4-1.0.7.jar
RingOfBlink-1.14.4-1.0.22.jar
RingOfEnderchest-11.44.-1.0.20.jar
RingOfGrowth-1.14.4-1.0.20.jar
RingOfMiner-1.14.4-1.0.18.jar
RingOfRepair-1.14.4-1.0.21.jar
RingOfTeleport-1.14.4-1.0.18.jar
SBM-CharcoalBlock-1.14.3-1.0.0.jar
SBM-WoodenShears-1.14.4-1.0.0.jar
torchslabmod-1.14.4_v1.5.jar
wetstone-1.1.2.jar
XL-Food-Mod-1.14.4-2.2.2.jar
extendedslabs-1.14.4-0.1.0-beta.jar
fansmod-1.14.4-1.1.6.0.jar
masonry-1.14.4-0.3.3.jar
See also
External links