Raise a Floppa - The Loop
Play Sound
This article is a work-in-progress.
It may be finished in the near future, check its history to see previous edits.
This page is about the Multimeter from Project Red. For other uses, see Multimeter.
Multimeter


Mod
Project Red
Type
Tool
Required modules
Core
The Multimeter (formerly Wire Debugger) is a tool added by Project Red. It is used for debugging:
If MineChem is installed, the Multimeter can be decomposed with the Chemical Decomposer into chemical compounds added by MineChem.
Recipe
Usage
Redstone signal
Right-clicking with the Multimeter on Red Alloy Wires, all Insulated Wires, Framed Red Alloy Wires, and all Framed Insulated Wires will display the intensity of the redstone signal at the selected point of the wire for three seconds.
Right-clicking with the Multimeter on Bundled Cables, all Colored Bundled Cabless and Framed Bundled Cables will display the current channels and which ones are on at the clicked point on the wire for three seconds. "Off" means that no channel is transmitting a redstone signal. "Numbers" shows the active channels, where each number represents a color/channel, which are listed in the following table:
| | | | | | | | | | | | | | | | | |
| --- | --- | --- | --- | --- | --- | --- | --- | --- | --- | --- | --- | --- | --- | --- | --- | --- |
| Number | 0 | 1 | 2 | 3 | 4 | 5 | 6 | 7 | 8 | 9 | 10 | 11 | 12 | 13 | 14 | 15 |
| Color | White | Orange | Magenta | Light Blue | Yellow | Lime | Pink | Grey | Light Grey | Cyan | Purple | Blue | Brown | Green | Red | Black |
Electrotine power network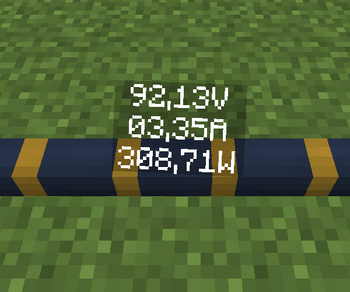 Project Red
 

Items

Ores

·  ·  ·  ·  ·  ·

 

Raw Resources

·  ·  ·  ·  ·  ·  ·  ·  ·  ·  ·  ·  ·  ·  ·  ·  ·

 

Refined Resources

·  ·  ·  ·  ·  ·  ·  ·  ·

 

Components

·  ·  ·  ·  ·  ·  ·  ·  ·  ·  ·  ·  ·  ·  ·  ·  ·

 

Upgrades

·  ·  ·  ·  ·

 

Chips

·  ·  ·  ·  ·  ·  ·  ·

 

Illumar

·  ·  ·  ·  ·  ·  ·  ·  ·  ·  ·  ·  ·  ·  ·

 
 

Armor

Helmets

·  ·

 

Chestplates

·  ·

 

Leggings

·  ·

 

Boots

·  ·

 
 

Tools

Swords

·  ·  ·

 

Pickaxes

·  ·

 

Shovels

·  ·

 

Axes

·  ·

 

Hoes

·  ·

 

Saws

·  ·  ·

 

Sickles

·  ·  ·  ·  ·  ·  ·

 

Utility

·  ·  ·  ·  ·  ·  ·  ·  ·  ·  ·

 

Backpacks

·  ·  ·  ·  ·  ·  ·  ·  ·  ·  ·  ·  ·  ·  ·

 
 

Blocks

Decorative Blocks

·  ·  ·  ·

 

Machines

·  ·  ·  ·  ·  ·  ·  ·  ·  ·  ·  ·  ·  ·  ·  ·  ·

 

Stained Leaf Blocks

·  ·  ·  ·  ·  ·  ·  ·  ·  ·  ·  ·  ·  ·  ·

 

Logic Gates

·  ·  ·  ·  ·  ·  ·  ·  ·  ·  ·  ·  ·  ·  ·  ·  ·  ·  ·  ·  ·  ·  ·  ·  ·  ·  ·  ·  ·  ·  ·  ·  ·  ·

 

Pipes

·  ·  ·  ·  ·  ·  ·  ·

 

Tubes

·

 

Walls

·  ·  ·  ·  ·  ·  ·  ·  ·  ·  ·

 
 

Wiring

Redstone Wire

Standard/Insulated

·  ·  ·  ·  ·  ·  ·  ·  ·  ·  ·  ·  ·  ·  ·  ·

 

Bundled

·  ·  ·  ·  ·  ·  ·  ·  ·  ·  ·  ·  ·  ·  ·  ·

 

Framed

·  ·  ·  ·  ·  ·  ·  ·  ·  ·  ·  ·  ·  ·  ·  ·  ·

 

Power Lines
 

Lighting

Lamps

·  ·  ·  ·  ·  ·  ·  ·  ·  ·  ·  ·  ·  ·  ·

 

Inverted Lamps

·  ·  ·  ·  ·  ·  ·  ·  ·  ·  ·  ·  ·  ·  ·

 

Lanterns

·  ·  ·  ·  ·  ·  ·  ·  ·  ·  ·  ·  ·  ·  ·

 

Inverted Lanterns

·  ·  ·  ·  ·  ·  ·  ·  ·  ·  ·  ·  ·  ·  ·

 

Illumar Buttons

·  ·  ·  ·  ·  ·  ·  ·  ·  ·  ·  ·  ·  ·  ·

 

Illumar Feedback Buttons

·  ·  ·  ·  ·  ·  ·  ·  ·  ·  ·  ·  ·  ·  ·

 

Cage Lamps

·  ·  ·  ·  ·  ·  ·  ·  ·  ·  ·  ·  ·  ·  ·

 

Inverted Cage Lamps

·  ·  ·  ·  ·  ·  ·  ·  ·  ·  ·  ·  ·  ·  ·

 

Fallout Lights

·  ·  ·  ·  ·  ·  ·  ·  ·  ·  ·  ·  ·  ·  ·

 

Inverted Fallout Lights

·  ·  ·  ·  ·  ·  ·  ·  ·  ·  ·  ·  ·  ·  ·

 

Fixtures

·  ·  ·  ·  ·  ·  ·  ·  ·  ·  ·  ·  ·  ·  ·

 

Inverted Fixtures

·  ·  ·  ·  ·  ·  ·  ·  ·  ·  ·  ·  ·  ·  ·

 
 

Other

Liquids

·

 

Stained Saplings

·  ·  ·  ·  ·  ·  ·  ·  ·  ·  ·  ·  ·  ·  ·

 

Deviating Lily

·  ·  ·  ·  ·  ·  ·  ·  ·  ·  ·  ·  ·  ·  ·

 

Deviating Lily Seeds

·  ·  ·  ·  ·  ·  ·  ·  ·  ·  ·  ·  ·  ·  ·

 

Other World