MultiMC
MultiMC is a free, open-source launcher for modded Minecraft specially designed to overcome the features lacking on the official launchers, such as offline gameplay and Linux support.
It is managed by a two person team[1].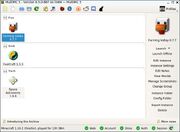 Features
The main features that MultiMC brings to the launchers' ecosystem are:
Simultaneous control of multiple Minecraft instances.
Custom icons and groups for instances.
Management of multiple Minecraft user profiles.
Ability to play offline.
Starting Minecraft with a custom resolution and Java arguments.
Changing Java's runtime options (including memory options such as MaxM and MinM).
Showing Minecraft's console output in a color coded window.
Killing Minecraft easily if it crashes or freezes.
Forge integration (automatic installation, version downloads, mod management).
Minecraft world management, with copying and renaming features.
Importing and exporting Minecraft instances to share them with anyone.
Support for every version of Minecraft that the vanilla launcher does, including snapshots.
Management of server and client text logs and in-game screenshots taken during gameplay.
Automatic Curse modpack downloads. (Since version 0.6.0.) You no longer need third party tools. Just import a Curse modpack zip. (It will also successfully download archived mods.)
Version history
There is no official changelog formatted version history available. Most of the updates for the launcher are posted on the official blog.
External links