GTA: The Criminal Enterprises - The Loop
Play Sound
Matter Transmitter


Mod
RFTools
Type
Solid block
The Matter Transmitter is a block added by RFTools. It is a transportation device that can send a player across space and dimensions to a specified Matter Receiver. It must be used in conjunction with a Dialing Device. When successfully dialed to a receiver, the transmitter will project a 3-block high teleportation beam. By stepping into the beam, the player is transmitted to the destination.
Recipe
Interface
The Matter Transmitter interface offers a field to name the transmitter, a selector to restrict access to the transmitter, and a checkbox to hide the teleportation beam. Providing a name is not required but is recommended.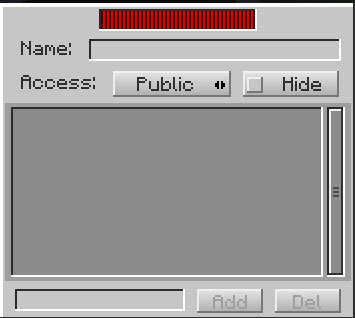 Operation
The Matter Transmitter is operated from the Dialing Device. After opening the Dialing Device's GUI, the player selects a source and a destination, then clicks the Dial button. A link between the two is established and players can be transported. If Dial Once is clicked, the link will be closed after a single transit. If Dial is clicked, the link will remain open after transit.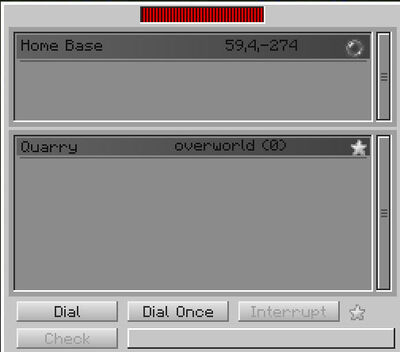 In situations where there are a large number of transmitters and receivers (for example, a high-population server), the Star icons can be used to set and filter favorite destinations.
Double-clicking on a source or destination will cause the selected device to be briefly highlighted with a red bounding box.
See also
RFTools
 

Resources

Ores


 

Dimensional Shard Ore (Nether)


 

Dimensional Shard Ore (End)

Raw
 

Blocks

Machines

Creative

Energy

Matter


 

Matter Beamer


 Matter Transmitter

Shield

Storage


 

Modular Storage


 

Remote Storage


 

Storage Scanner


 

Storage Terminal

Other


 

Inventory Checker


 

Level Emitter


 

Liquid Monitor


 

Locator


 

Projector


 

Security Manager


 

Space Chamber Controller Block


 

Space Chamber Corner Block
 

Items

Cards

Cards


 

Orphaning Card


 

Security Card


 

Space Chamber Card

Shape cards


 

Shape Card (Clearing Pump)


 

Shape Card (Pump)


 

Shape Card (Void)

Items


 

Developers Delight


 

Modifier


 

Peace Essence


 

Teleporter Probe

Modules

Entities


 

Blindness Module


 

Feather Falling Module


 

Feather Falling Plus Module


 

Flight Module


 

Glowing Module


 

Haste Module


 

Haste Plus Module


 

Luck Module


 

Night Vision Module


 

No Teleport Module


 

Peaceful Module


 

Poison Module


 

Regeneration Plus Module


 

Saturation Module


 

Saturation Plus Module


 

Slowness Module


 

Speed Module


 

Speed Plus Module


 

Water Breathing Module


 

Weakness Module

Machines


 

Button Module


 

Clock Module


 

Computer Module


 

Counter Module


 

Counter Plus Module


 

Dump Module


 

Energy Plus Module


 

Fluid Module


 

Fluid Plus Module


 

Inventory Module


 

Inventory Plus Module


 

Machine Information Module


 

Text Module

Storage


 

Generic Storage Module


 

Ore Dictionary Storage Module


 

Remote Storage Module


 

Storage Control Module


 

Storage Filter Module


 

Storage Module Tier 1


 

Storage Module Tier 2


 

Storage Module Tier 3

Tools
 

Guides

Guides


 

RFTools Manual


 

RFTools Shape Manual