World of Warcraft: Dragonflight - The Loop
Play Sound
This page is about the Magical Wood added by Extra Utilities 2. For other uses, see Magical Wood.
Magical Wood


Mod
Extra Utilities 2
Type
Solid block
Magical Wood is a block added by Extra Utilities 2. It is used in the crafting of several items in Extra Utilities 2, including the Bag Of Holding, Builders Wand, and Destruction Wand. It can be placed near an Enchantment Table to boost the level the table can enchant at by 2.5 levels.
Recipe
The recipe requires 4 experience levels for each piece of Magical Wood crafted. It can also be crafted in an Enchanter by combining a Bookshelf and a Lapis Lazuli.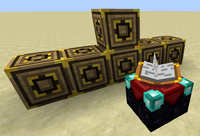 Extra Utilities 2
 

Blocks

GP generators

RF generators

Spikes

Drums

Trash Cans

Transfer

Misc devices


 Magical Wood

 

Power Overload

Terraformer/Climograph

Glass

Decorative

Components
 

Items

Angel Rings

Wands

Sickles

Weapons

Upgrades

Potions

Misc utilities


 

Flat Transfer Node (Fluids)


 

Flat Transfer Node (Items)

Components
 

Misc

Villagers

Enchantments

Trees

Misc