Fire Emblem Warriors: Three Hopes - The Loop
Play Sound
MV Solar Panel


Mod
GregTech 4
Type
Cover
Tooltip text
Makes Energy from Sun at 64 EU/t
Upgrades
Previous tier


Next tier


Energy
Max EU output
64 EU/t
EU production
Day: 64 EU/t
Night: 8 EU/t
The MV Solar Panel is a cover added by GregTech 4. It will generate 64 Energy Units per tick (EU/t) during the day time, and 8 EU/t during the night time.
The MV Solar Panel can be applied to any side of a machine by right-clicking a side. However, it will only function if the cover is on the top side of the block. It can be removed by right-clicking the cover with a Wrench.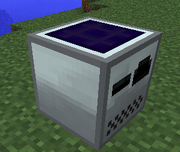 Recipe
Per default, the MV Solar Panel cannot be crafted. However, its crafting recipe can be enabled by changing the "SolarPanelMV_false" configuration to "true" in the "DynamicConfig.cfg" config.
GregTech 4
 

Energy

Generators

·  ·  ·  ·  ·  ·  ·  ·  ·  ·

 

EU Storage

·  ·  ·  ·  ·  ·  ·  ·  ·  ·

 

Nuclear Reactor Components

·  ·  ·  ·  ·  ·  ·  ·  ·  ·  ·  ·  ·

 

·  ·  ·  ·

 

Misc. energy

·

 

Multiblock Generators

·  ·  ·  ·  ·  ·  ·  ·  ·  ·

 
 

Processed Components

Machine Blocks

·  ·  ·  ·  ·  ·  ·

 

Circuits

·  ·  ·  ·  ·  ·  ·

 

Heating Coils

·  ·

 

Hulls

·  ·  ·  ·  ·  ·  ·  ·  ·

 

Miscellaneous

·  ·  ·  ·  ·  ·  ·  ·  ·

 

Upgrades

·  ·  ·  ·  ·  ·  ·  ·  ·  ·

 

Covers

·  ·  ·  ·  ·  ·  ·  ·  ·  ·  ·  ·  ·  ·  ·  ·  ·  ·  ·  ·

 

Turbine Blades

·  ·  ·  ·

 

Gears

·  ·  ·  ·  ·

 
 

Machines

Processing

Furnaces

·  ·  ·

 

Smelters

·

 

Blast Furnaces

·

 

Grinding

·  ·  ·

 

Slicing

·  ·  ·

 

Separation

·  ·

 

Compression

·  ·

 

Combining

·  ·  ·

 

Extraction

·

 

Smashing

·

 

Scrap

·

 

Other

·

 

Automation

Crafting

·  ·

 

Interaction

·  ·  ·

 

Buffers

·  ·  ·

 

Sorting

·  ·

 

Managers

·

 

Translocators

·

 

Sound

·

 

Interdimensional

·  ·

 

Redstone

·  ·  ·  ·

 

Storage

Dense

·  ·  ·

 

Aesthetic

·  ·  ·  ·

 

Pipes

Item Pipe

·

 

Large Item Pipe

·

 

Fluid Pipe

·  ·  ·

 

Large Fluid Pipe

·  ·  ·

 

Other

·  ·  ·

 
 

Tools & Utilities

Credits

·  ·  ·  ·  ·  ·  ·  ·  ·  ·  ·  ·  ·  ·  ·

 

Hammers

·  ·

 

Wrenches

·  ·  ·  ·  ·

 

Other Tools

·  ·  ·  ·  ·  ·  ·  ·  ·  ·  ·  ·  ·  ·  ·

 

Digging Tools

·  ·  ·  ·

 

Wearables

·  ·  ·  ·

 

Soldering

·  ·

 

Turbine Rotors

·  ·  ·  ·

 

Saws

·  ·  ·  ·  ·

 

Spray Cans

·  ·  ·  ·  ·  ·  ·  ·  ·  ·  ·  ·  ·  ·  ·  ·  ·  ·  ·  ·  ·  ·

 

Files

·  ·  ·

 

Flint Tools

·  ·  ·  ·

 

Steel Tools

·  ·  ·  ·

 

Tungstensteel Tools

·  ·  ·  ·

 

Extruder Shapes

·

 
 

Resources

·  ·  ·  ·  ·  ·  ·  ·  ·  ·  ·  ·  ·  ·  ·  ·  ·  ·  ·  ·

 

·  ·  ·  ·  ·

 

·  ·  ·  ·  ·  ·  ·  ·  ·  ·  ·  ·  ·  ·  ·  ·  ·  ·  ·  ·  ·  ·  ·  ·  ·  ·  ·  ·

 

·  ·  ·  ·  ·  ·  ·  ·  ·  ·  ·  ·  ·  ·  ·  ·  ·  ·  ·

 

·  ·  ·  ·  ·  ·  ·  ·  ·  ·  ·  ·  ·  ·

 

·  ·  ·  ·  ·  ·  ·  ·  ·  ·  ·  ·  ·  ·  ·  ·  ·  ·  ·  ·  ·  ·  ·  ·  ·  ·  ·  ·  ·  ·  ·  ·  ·  ·  ·  ·  ·  ·  ·  ·

 

·  ·  ·  ·  ·  ·  ·  ·  ·  ·  ·  ·  ·  ·  ·  ·  ·  ·  ·  ·  ·

 
 

Resources (Dusts)

·  ·  ·  ·  ·  ·  ·  ·  ·  ·  ·  ·  ·  ·  ·  ·  ·  ·  ·  ·  ·  ·  ·  ·  ·  ·  ·  ·  ·  ·  ·  ·  ·  ·  ·  ·  ·  ·  ·  ·  ·  ·  ·  ·  ·  ·  ·  ·  ·  ·  ·  ·  ·  ·  ·  ·  ·  ·  ·  ·  ·  ·  ·  ·  ·  ·  ·  ·  ·  ·  ·

 

·  ·  ·  ·  ·  ·  ·  ·  ·  ·  ·  ·  ·  ·  ·  ·  ·  ·  ·  ·  ·  ·  ·  ·  ·  ·  ·  ·  ·  ·  ·  ·  ·  ·  ·  ·  ·  ·  ·  ·  ·  ·  ·  ·  ·  ·  ·  ·  ·  ·  ·  ·  ·  ·  ·  ·  ·  ·  ·  ·  ·  ·  ·  ·  ·  ·  ·  ·  ·  ·  ·  ·  ·  ·  ·

 

·  ·  ·  ·  ·  ·  ·  ·  ·  ·  ·  ·  ·  ·  ·  ·  ·  ·  ·  ·  ·  ·  ·  ·  ·  ·  ·  ·  ·  ·  ·  ·  ·  ·  ·  ·  ·  ·  ·  ·  ·  ·  ·  ·  ·  ·  ·  ·  ·  ·  ·  ·  ·  ·  ·  ·  ·  ·  ·  ·  ·  ·  ·  ·  ·  ·  ·  ·  ·  ·  ·  ·  ·  ·  ·

 
 

Resources (Gases, Liquids, Plasmas & Cells)

Pure Chemical Element Cells

·  ·  ·  ·  ·  ·  ·  ·  ·  ·  ·  ·  ·  ·  ·  ·  ·

 

Chemical Compound Cells

·  ·  ·  ·  ·  ·  ·  ·  ·  ·  ·  ·  ·  ·  ·

 
 

Agriculture/Food

Crops

·  ·  ·  ·  ·  ·  ·  ·  ·  ·  ·  ·  ·  ·  ·  ·  ·  ·  ·  ·  ·  ·

 

Products

·  ·  ·

 

Foods

·  ·  ·

 
 

Useful Information

Books

·  ·  ·  ·  ·  ·  ·  ·  ·  ·  ·  ·  ·  ·  ·