Raise a Floppa - The Loop
Play Sound
Low Load Power Line


Mod
Project Red
Type
Solid block
Required modules
Expansion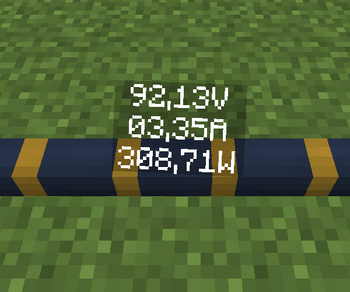 The Low Load Power Line is a block added by Project Red. It's a power cable for the internal Electrotine Power energy system. These lines may be placed on the ground, on the sides as well as on the ceiling. Furthermore two of these lines can be placed on the space of one block without connection . With the Multimeter and a right-clicking on the line, the current voltage, amperage and resulting transmitted power are displayed (shown in the picture).
Further the Low Load Power Line is required for crafting the Framed Low Load Power Line and connect with each other.
If the mod MineChem is installed, then you can decompose the Low Load Power Line with the Chemical Decomposer into 16 or 32 Iron (Fe) and possibily some other compounds of MineChem.
Recipe
Project Red
 

Items

Ores

·  ·  ·  ·  ·  ·

 

Raw Resources

·  ·  ·  ·  ·  ·  ·  ·  ·  ·  ·  ·  ·  ·  ·  ·  ·

 

Refined Resources

·  ·  ·  ·  ·  ·  ·  ·  ·

 

Components

·  ·  ·  ·  ·  ·  ·  ·  ·  ·  ·  ·  ·  ·  ·  ·  ·

 

Upgrades

·  ·  ·  ·  ·

 

Chips

·  ·  ·  ·  ·  ·  ·  ·

 

Illumar

·  ·  ·  ·  ·  ·  ·  ·  ·  ·  ·  ·  ·  ·  ·

 
 

Armor

Helmets

·  ·

 

Chestplates

·  ·

 

Leggings

·  ·

 

Boots

·  ·

 
 

Tools

Swords

·  ·  ·

 

Pickaxes

·  ·

 

Shovels

·  ·

 

Axes

·  ·

 

Hoes

·  ·

 

Saws

·  ·  ·

 

Sickles

·  ·  ·  ·  ·  ·  ·

 

Utility

·  ·  ·  ·  ·  ·  ·  ·  ·  ·  ·

 

Backpacks

·  ·  ·  ·  ·  ·  ·  ·  ·  ·  ·  ·  ·  ·  ·

 
 

Blocks

Decorative Blocks

·  ·  ·  ·

 

Machines

·  ·  ·  ·  ·  ·  ·  ·  ·  ·  ·  ·  ·  ·  ·  ·  ·

 

Stained Leaf Blocks

·  ·  ·  ·  ·  ·  ·  ·  ·  ·  ·  ·  ·  ·  ·

 

Logic Gates

·  ·  ·  ·  ·  ·  ·  ·  ·  ·  ·  ·  ·  ·  ·  ·  ·  ·  ·  ·  ·  ·  ·  ·  ·  ·  ·  ·  ·  ·  ·  ·  ·  ·

 

Pipes

·  ·  ·  ·  ·  ·  ·  ·

 

Tubes

·

 

Walls

·  ·  ·  ·  ·  ·  ·  ·  ·  ·  ·

 
 

Wiring

Redstone Wire

Standard/Insulated

·  ·  ·  ·  ·  ·  ·  ·  ·  ·  ·  ·  ·  ·  ·  ·

 

Bundled

·  ·  ·  ·  ·  ·  ·  ·  ·  ·  ·  ·  ·  ·  ·  ·

 

Framed

·  ·  ·  ·  ·  ·  ·  ·  ·  ·  ·  ·  ·  ·  ·  ·  ·

 

Power Lines
 

Lighting

Lamps

·  ·  ·  ·  ·  ·  ·  ·  ·  ·  ·  ·  ·  ·  ·

 

Inverted Lamps

·  ·  ·  ·  ·  ·  ·  ·  ·  ·  ·  ·  ·  ·  ·

 

Lanterns

·  ·  ·  ·  ·  ·  ·  ·  ·  ·  ·  ·  ·  ·  ·

 

Inverted Lanterns

·  ·  ·  ·  ·  ·  ·  ·  ·  ·  ·  ·  ·  ·  ·

 

Illumar Buttons

·  ·  ·  ·  ·  ·  ·  ·  ·  ·  ·  ·  ·  ·  ·

 

Illumar Feedback Buttons

·  ·  ·  ·  ·  ·  ·  ·  ·  ·  ·  ·  ·  ·  ·

 

Cage Lamps

·  ·  ·  ·  ·  ·  ·  ·  ·  ·  ·  ·  ·  ·  ·

 

Inverted Cage Lamps

·  ·  ·  ·  ·  ·  ·  ·  ·  ·  ·  ·  ·  ·  ·

 

Fallout Lights

·  ·  ·  ·  ·  ·  ·  ·  ·  ·  ·  ·  ·  ·  ·

 

Inverted Fallout Lights

·  ·  ·  ·  ·  ·  ·  ·  ·  ·  ·  ·  ·  ·  ·

 

Fixtures

·  ·  ·  ·  ·  ·  ·  ·  ·  ·  ·  ·  ·  ·  ·

 

Inverted Fixtures

·  ·  ·  ·  ·  ·  ·  ·  ·  ·  ·  ·  ·  ·  ·

 
 

Other

Liquids

·

 

Stained Saplings

·  ·  ·  ·  ·  ·  ·  ·  ·  ·  ·  ·  ·  ·  ·

 

Deviating Lily

·  ·  ·  ·  ·  ·  ·  ·  ·  ·  ·  ·  ·  ·  ·

 

Deviating Lily Seeds

·  ·  ·  ·  ·  ·  ·  ·  ·  ·  ·  ·  ·  ·  ·

 

Other World