Fire Emblem Warriors: Three Hopes - The Loop
Play Sound
This page is about the Klein Star Drei added by ProjectE. For other uses, see Klein Star Drei.
Klein Star Drei


Mod
ProjectE
Type
Tool
Upgrades
Previous tier


Next tier


Energy
EMC value
393,216 EMC
EMC storage
800,000 EMC
Klein Star Drei is an EMC storage item added by ProjectE, based off the Klein Star Drei added by Equivalent Exchange 2.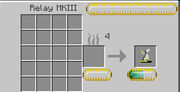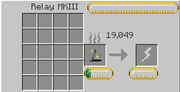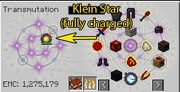 Klein Star Drei holds up to 800,000 EMC and is also used in the crafting of Klein Star Vier.
Klein Stars can be charged by being placed in a Transmutation Table and being feed in items, or by being placed in the charging slot of an Energy Collector or Anti-Matter Relay. Klein Stars are discharged by being placed them in the discharging slot of an Anti-Matter Relay.
If a charged Klein Star is placed in the "flames" slot of a Transmutation Table, the star will be destroyed, converted to EMC and any stored energy will be lost.
Recipe
Trivia
The name of the Klein Star was inspired by the klein bottle, the 4D extension of the Möbius strip. That is, a four dimensional object with only a single surface.
ProjectE
 

Blocks

Chests

EMC generators

EMC consumers

Explosives


 

Nova Catalyst


 

Nova Cataclysm

Storage blocks

Misc
 

Items

Klein Stars

Dust

Fuel

Baubles


 

Ignition Ring


 

Zero Ring


 

Swiftwolf's Rending Gale


 

Watch of Flowing Time


 

Void Ring


 

Ring of Arcana


 

Body Stone


 

Soul Stone


 

Mind Stone


 

Life Stone


 

Evertide Amulet


 

Volcanite Amulet

Dark Matter armor

Red Matter armor

Gem armor

Dark Matter tools


 

Dark Matter Axe


 

Dark Matter Shovel


 

Dark Matter Sword


 

Dark Matter Hoe


 

Dark Matter Shears


 

Dark Matter Hammer

Red Matter tools


 

Red Matter Pickaxe


 

Red Matter Axe


 

Red Matter Shovel


 

Red Matter Sword


 

Red Matter Hoe


 

Red Matter Shears


 

Red Matter Hammer


 

Red Katar


 

Red Morningstar

Misc utilities


 

Archangel's Smite


 

Harvest Goddess Band


 

Divining Rod (medium)


 

Divining Rod (high)


 

Mercurial Eye


 

Destruction Catalyst


 

Hyperkinetic Lens


 

Catalytic Lens


 

Book of the Alchemist (WIP)

Components