Fire Emblem Warriors: Three Hopes - The Loop
Play Sound
Cargador de Objetos


Mod
Railcraft
Tipo
Máquina
Módulos requeridos
Transporte
Actualizaciones
Nivel próximo


El Cargador de Objetos es un bloque agregado por Railcraft. Se usa para depositar artículos de un inventario adyacente en un vagoneta con un inventario, como Vagonetas con Cofres. Cuando el carro está lleno o cumple con los requisitos establecidos en la GUI, el bloque emitirá una señal de Redstone.
The Item Loader will only output items to minecarts that are vertically adjacent to it. This can be changed by upgrading it to the Adv. Item Loader.
Receta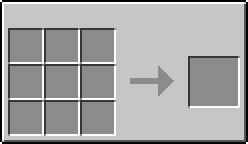 Uso
El Cargador de Objetos debe colocarse encima de la Vía donde se colocará la Vagoneta para cargar. Vías de Bloqueo son muy útiles cuando se combinan con Cargadores de Objetos, cuando se configuran en modo de espera o de embarque, porque detendrán la Vagoneta cuando no haya señal de Redstone, y obligan al carro a continuar cuando hay una señal de Redstone.
Los artículos pueden transferirse al Cargador colocando un contenedor al lado o enrutando artículos dentro de él utilizando tuberías o bloques similares.
GUI
En la GUI hay una sección de Filtros, una de Buffer y algunos botones. La sección Filtros determina qué artículos y cuántos se toman del inventario. La sección del búfer es el lugar para colocar los artículos que se cargarán. Cualquier artículo de inventarios adyacentes se colocará automáticamente aquí.
Los botones determinan la forma en que funcionará el Cargador:
Botón superior:
Todo: Mueve todos los artículos del Buffer.
Transferir: Mueve los artículos exactos en el Filtro.
Stock: Mueve los artículos hasta que el destino coincida con el Filtro.
Exceso: Mantenga los elementos en el Filtro y mueva todo lo demás.
Boton del Fondo:
Inmediato: Emite Redstone si artículos no han sido movido.
Completo: Emite Redstone cuando se completa el movimiento.
Manual: Nunca emita Redstone.
Parcial: Emite Redstone si no se movieron artículos y el carrito no está vacío.
Railcraft
 

Recurso

Materia Prima

·  ·  ·  ·  ·  ·

Mineral Pobre

 

Refinado

·  ·  ·  ·  ·  ·  ·  ·  ·  ·  ·  ·  ·  ·  ·  ·  ·  ·

 

Líquidos

·

 
 

Máquinas

Motores

·  ·

 

Estructuras Multibloques

· Alto Horno ·  ·

Horno de Coque

 ·  ·  ·  ·

Tanque de Hierro

 ·  ·  ·  ·  ·  ·

Caldera de Vapor

 ·  ·

Tanque de Agua

 ·  ·  ·  ·

Steel Tank

 ·

Steam Turbine

 ·  ·

 

·  ·  ·  ·  ·  ·  ·  ·  ·  ·  ·  ·  ·  ·  ·  ·

 

Cargadores y Descargadores

·  ·  ·  ·  ·  ·  ·

 

Anclas

·  ·  ·  ·

 

Misc

·  ·  ·  ·  ·  ·  ·  ·  ·  ·  ·  ·  ·  ·  ·

 
 

Vías

Vagonetas

·  ·  ·  ·  ·  ·  ·  ·  ·  ·  ·  ·  ·  ·  ·  ·  ·  ·  ·  ·  ·  ·

 

Signaling and Switching

·  ·  ·  ·  ·  ·  ·  ·  ·  ·  ·  ·  ·  ·  ·

 

Vías de Madera

·  ·  ·  ·

 

Standard Tracks

·  ·  ·  ·

 

Reinforced Tracks

·  ·  ·  ·

 

H.S Tracks

·  ·  ·  ·

 

Electric Tracks

·  ·  ·

 

Other Tracks

·  ·  ·  ·  ·  ·  ·  ·  ·  ·  ·  ·  ·  ·  ·  ·  ·  ·  ·  ·  ·  ·  ·

 

Legacy Tracks

·  ·  ·

 
 

Herramientas

·  ·  ·  ·  ·

 

Palancas

·  ·  ·

 

Forestry Backpacks

·  ·  ·  ·  ·

 

Misc

·  ·  ·  ·  ·

 
 

Armadura

·  ·  ·

 

Misc

·

 
 

Componentes

Circuitos

·  ·

 

·  ·  ·

 

·  ·

 

Rieles

·  ·  ·  ·  ·  ·  ·  ·  ·  ·  ·

 

Misc

·  ·  ·  ·  ·  ·  ·

 
 

Misc

Misc

·  ·

 

Bloques Estéticos

·  ·  ·  ·  ·  ·  ·  ·  ·  ·  ·  ·  ·  ·  ·  ·  ·  ·

Losas

 ·

Paredes

 ·

Escaleras

 

Encantamientos

Destrozar

 ·

Implosión

 ·

Destrucción

Mundo