Industrial Foregoing's Manual


Mod
Industrial Foregoing
Type
Book
The Industrial Foregoing's Manual is an in-game manual added by Industrial Foregoing. Right-clicking it will open it. Shift clicking a machine from Industrial Foregoing while holding the manual will open the manual to the relevant entry.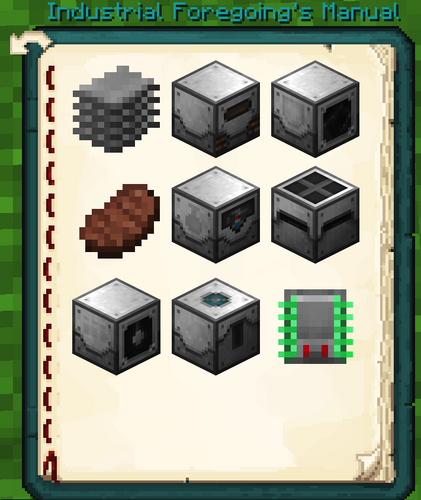 The main page has a list of the nine categories: "Getting Started," "Generators," "Agriculture," "Animal Husbandry," "Magic," "Storage," "Mob Interaction," "Resource Production," and "Items." This serves as a table of contents, and clicking a category will open that section, and clicking one of the items will open up a page on that item. The Industrial Foregoing's Manual has pages for all of the blocks and items in the mod.
Recipe
Industrial Foregoing
 

Blocks

Energy producers

Energy consumers

Other utilities

Conveyor Belt
 

Items

Tools

Components

Misc