No Man's Sky Update - The Loop
Play Sound
Heat Generator


Mod
Mekanism
Type
Machine
Required modules
Mekanism: Generators
Properties
Blast resistance
24
Hardness
3.5
Stackable
No
Liquid storage
24,000 mB
TC6 Aspects



48




22




8




7




4




4



Energy
EU storage
16,000 EU
Max EU output
30 EU/t
MJ storage
0.16 MJ
Max MJ output
0.0003 MJ/t
RF storage
64,000 RF
Max RF output
120 RF/t
Tesla storage
64,000 T
Max Tesla output
120 T/t
The Heat Generator is a machine added by Mekanism, which is used to produce energy from combustible materials and Lava (see Usage).
Recipe
Usage
Energy production
The Generator needs combustible materials (e.g., Coal) or Lava) to produce energy. Lava can be supplied manually via storage items like the Basic Gas Tank or through Basic Fluid Pipes.
The Generator can produce energy passively from adjacent Lava blocks, as shown in Picture 1. In this mode the generator produces smaller quantities of energy compared to consuming combustibles but can produce energy constantly without consuming materials. Every block of Lava next to the generator raises the heat input and subsequently energy production.
The produced energy can be delivered to a connected Basic Universal Cable, an adjacent machine or Basic Energy Cube, or it can be used to charge portable energy storage cells like the RE-Battery and items inside the GUI.
GUI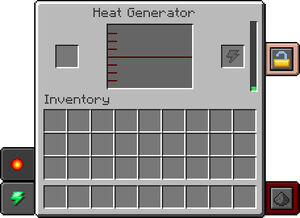 Right-clicking on the machine opens its GUI (shown in picture 2).
Slots
The slot on the left can be used to input combustible materials or Lava Buckets.
The filling level indicator in the middle shows the internal storage which is expressed in "mB Lava". For example, one piece of Coal is transformed into 800 mB of lava and stored in the internal storage.
The green slot and the vertical meter on the right side accepts rechargeable portable power storage containers (such as a Basic Energy Cube or RE-Battery) and displays the current energy in the machine respectively.
The upper-left button changes the displayed heat system between °K (Kelvin), °C (Celcius), °F (Fahrenheit), R and "+STD". The change only affects the display; the energy is still available in all forms inside the system.
The middle-right button opens the GUI to configure the access rights for the machine.
The lower-right button changes the behavior to Redstone:

"High" = operates only if a signal is received
"Low" = operates only if no signal is received
"Disabled" = operates independently from Redstone signals
Mekanism
 

Armor

Bronze

Glowstone

Lapis Lazuli

Obsidian

Osmium

Steel
 

Resources

Ore

Ingot

Clump

Crystal

Dust

Shard

Blocks

Materials

Fuel
 

Blocks

Blocks


 

Reactor Glass


 

Reactor Logic Adapter


 

Teleporter Frame


 

Turbine Casing


 

Turbine Valve


 

Turbine Vent

Machines


 

Boiler Casing


 

Boiler Valve


 

Chemical Crystallizer


 

Chemical Dissolution Chamber


 

Chemical Infuser


 

Chemical Injection Chamber


 

Chemical Oxidizer


 

Chemical Washer


 

Combiner


 

Dictionary


 

Electromagnetic Coil


 

Fluidic Plenisher


 

Formulaic Assemblicator


 

Fuelwood Heater


 Heat Generator

 

Induction Port


 

Laser Amplifier


 

Laser Focus Matrix


 

Oredictionificator


 

Precision Sawmill


 

Pressure Disperser


 

Quantum Entangloporter


 

Reactor Controller


 

Resistive Heater


 

Robit


 

Rotational Complex


 

Saturating Condenser


 

Security Desk


 

Seismic Reader


 

Seismic Vibrator


 

Solar Neutron Activator


 

Superheating Element

Basic


 

Basic Combining Factory


 

Basic Compressing Factory


 

Basic Crushing Factory


 

Basic Enriching Factory


 

Basic Induction Cell


 

Basic Induction Provider


 

Basic Infusing Factory


 

Basic Injecting Factory


 

Basic Smelting Factory

Advanced


 

Advanced Combining Factory


 

Advanced Compressing Factory


 

Advanced Crushing Factory


 

Advanced Enriching Factory


 

Advanced Induction Cell


 

Advanced Induction Provider


 

Advanced Infusing Factory


 

Advanced Injecting Factory


 

Advanced Purifying Factory


 

Advanced Smelting Factory

Elite


 

Elite Combining Factory


 

Elite Compressing Factory


 

Elite Crushing Factory


 

Elite Enriching Factory


 

Elite Induction Cell


 

Elite Induction Provider


 

Elite Infusing Factory


 

Elite Injecting Factory


 

Elite Purifying Factory


 

Elite Smelting Factory

Ultimate


 

Ultimate Induction Cell


 

Ultimate Induction Provider

Creative

Pipes, Tubes and Cables

Basic


 

Basic Pressurized Tube


 

Basic Thermodynamic Conductor


 

Diversion Transporter

Advanced


 

Advanced Pressurized Tube


 

Advanced Thermodynamic Conductor

Elite


 

Elite Pressurized Tube


 

Elite Thermodynamic Conductor

Ultimate


 

Ultimate Pressurized Tube


 

Ultimate Thermodynamic Conductor

Plastic

Balloon

Barrier

Block

Glow Block

Glow Panel

Road

Reinforced Block

Slick Block
 

Items

Components


 

Induction Casing


 

PlaStick


 

Substrate


 

Teleportation Core


 

Turbine Blade


 

Turbine Rotor

Items


 

Advanced Tier Installer


 

Basic Tier Installer


 

Configuration Card


 

Crafting Formula


 

Elite Tier Installer


 

Energy Tablet


 

HDPE Pellet


 

HDPE Rod


 

HDPE Sheet


 

Ultimate Tier Installer

Tools


 

Armored Jetpack


 

Configurator


 

Free Runners


 

Gauge Dropper


 

Jetpack


 

Scuba Tank


 

Walkie-Talkie

Bronze

Diamond

Glowstone

Gold

Iron

Lapis Lazuli

Obsidian

Osmium

Steel

Stone

Wood

Weapons

Upgrades


 

Filter Upgrade


 

Gas Upgrade
 

Multiblock structures

Multiblock structures