Fire Emblem Warriors: Three Hopes - The Loop
Play Sound
Grid


Mod
Refined Storage
Type
Machine
The Grid is a machine added by Refined Storage. It is the first point of access for a player to a Refined Storage digital storage network. Items can be inserted or removed from storage by left-clicking.
See also: Crafting Grid, Pattern Grid, Fluid Grid, Portable Grid
Recipe
Interface
The Grid's user interface is configurable in several different ways as illustrated in the image below. The upgrade slots at the top right accept on Filters.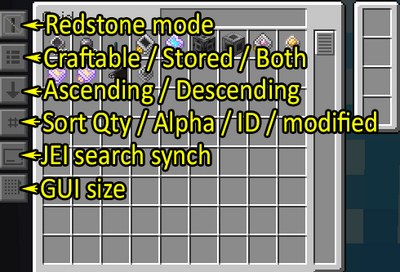 Refined Storage
User Interaction

·  ·  ·  ·  ·  ·  ·  ·  ·  ·  ·  ·  ·

 

Functional Blocks

·  ·  ·  ·  ·  ·  ·  ·  ·  ·  ·  ·  ·  ·  ·  ·  ·  ·  ·  ·

 

Storage Blocks and Disks

·  ·  ·  ·  ·  ·  ·  ·  ·  ·  ·  ·  ·  ·  ·

 

Components

·  ·  ·  ·  ·  ·  ·  ·  ·  ·  ·  ·  ·  ·  ·  ·  ·  ·  ·  ·  ·

 

Creative Items

·  ·  ·  ·  ·  ·  ·  ·

 

Upgrades

·  ·  ·  ·  ·  ·  ·