GTA: The Criminal Enterprises - The Loop
Play Sound
Gem Helmet


Mod
ProjectE
Type
Armor
Properties
Armor rating
3 ()
Armor toughness
2
Energy
EMC value
29,133,920 EMC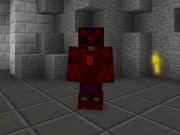 The Gem Helmet is a helmet added by ProjectE, inspired by the Abyss Helmet from Equivalent Exchange 2.
Inheriting the protection and damage reduction of the Red Matter Helmet, the Gem Helmet also protects the wearer from drowning, provides night vision and allows the wearer to shoot lightning bolts.
Gem Armor has no durability thus cannot be damaged while being worn.
The claimed 90% damage reduction is taken from the Equivalent Exchange 2 documentation. It's unverified if ProjectE provides the same feature.
Recipe
See also
ProjectE
 

Blocks

Chests

EMC generators

EMC consumers

Explosives


 

Nova Catalyst


 

Nova Cataclysm

Storage blocks

Misc
 

Items

Klein Stars

Dust

Fuel

Baubles


 

Ignition Ring


 

Zero Ring


 

Swiftwolf's Rending Gale


 

Watch of Flowing Time


 

Void Ring


 

Ring of Arcana


 

Body Stone


 

Soul Stone


 

Mind Stone


 

Life Stone


 

Evertide Amulet


 

Volcanite Amulet

Dark Matter armor

Red Matter armor

Gem armor

Dark Matter tools


 

Dark Matter Axe


 

Dark Matter Shovel


 

Dark Matter Sword


 

Dark Matter Hoe


 

Dark Matter Shears


 

Dark Matter Hammer

Red Matter tools


 

Red Matter Pickaxe


 

Red Matter Axe


 

Red Matter Shovel


 

Red Matter Sword


 

Red Matter Hoe


 

Red Matter Shears


 

Red Matter Hammer


 

Red Katar


 

Red Morningstar

Misc utilities


 

Archangel's Smite


 

Harvest Goddess Band


 

Divining Rod (medium)


 

Divining Rod (high)


 

Mercurial Eye


 

Destruction Catalyst


 

Hyperkinetic Lens


 

Catalytic Lens


 

Book of the Alchemist (WIP)

Components