Gas Turbine Controller
Gas Turbine Controller


Mod
Advanced Generators
Type
Solid block
The Gas Turbine Controller is a machine added by Advanced Generators. It is used to build the Gas Turbine Generator multiblock, which generates Redstone Flux (or other types of power depending on the blocks used) from various fluids.
GUI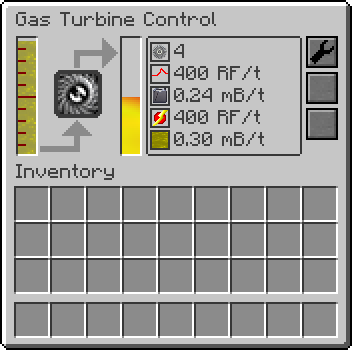 Fuel tank and power capacitor to the left.
Stats to the right (mouse over provides explanations).
Clicking wrench button allows output configuration.
Fuel consumption formula
Fuel Consumption (mB/tick) = Production (RF/tick) ÷ Fuel Energy Density (RF/mB) ÷ Efficiency Multiplier
Production is determined by requested energy, the system will not burn fuel when it has nowhere to store the energy.
Efficiency Multiplier is 110% by default, can be increased with Fuel/Air Mixer and Gas Mix Compressor.
Fuel
Additional (and custom) fuels will be denoted by fuel values showing in their tooltip.
Construction
The component blocks can be arranged in any configuration the player wishes as long as the blocks are adjacent to other components of the multiblock structure.
Required
A single
Gas Turbine Controller
At least 1, up to a maximum of 50 Turbines
Optional
Recipe
See also
Advanced Generators
Blocks

Controllers

·  ·  ·

 

·  ·  ·  ·  ·  ·  ·

 

Energy Components

·  ·  ·  ·  ·  ·  ·  ·  ·

 

Input/Output

·  ·  ·  ·  ·

 

Extension & Monitoring

·  ·  ·  ·  ·  ·  ·  ·  ·

 

Items

Components

·  ·  ·  ·  ·  ·  ·

 

Turbine

Blades

·  ·  ·  ·  ·  ·

 

Rotors

·  ·  ·  ·  ·  ·  ·

 

Upgrade Kits

Capacitor

·

 

·  ·  ·  ·  ·  ·

 

Fluids

·