Fire Emblem Warriors: Three Hopes - The Loop
Play Sound
This page is about the Fluid Pipe added by BuildCraft. For other uses, see Fluid Pipe.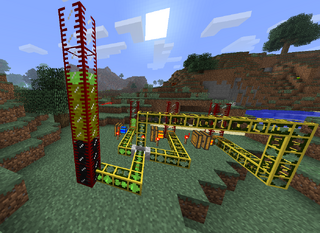 Fluid Pipes, before BuildCraft 4.x called Waterproof Pipes, are a type of pipes from BuildCraft that move liquids around in a similar manner as Transport Pipes. These pipes are created by combining Transport Pipes with Pipe Sealant.
Obsidian, Lazuli, Emzuli, Daizuli and Stripes Transport Pipes have no waterproof equivalent.
Different liquids will not mix together in the same pipe. However, if two pumps are pulling out different liquids and there is an empty pipe after one of the liquids passes through, the second liquid may be pumped into that empty pipe. When the two liquids reach a tank, the liquids will separate for each block of tank if there is space (shown in the picture). If there is no extra space for the second liquid, it will backup and clog the piping system.
Following the nine different Fluid Pipes and their functions:
| Pipe | Function | Liquid flow rate | Notes |
| --- | --- | --- | --- |
| Wooden | Allows extraction of liquids from a storage tank or inventory. | 10 mB/t | Requires an engine or an Autarchic Gate attached to the pipe to pull the liquid out of a connected inventory. Rate of extraction depends on engine used but a maximum of 10 mB/t. Connects to all pipes except the Emerald Fluid Pipe. |
| Cobblestone | Standard liquid transport pipe. | 10 mB/t | Will not connect to Stone and Quartz Fluid Pipes. |
| Stone | Standard liquid transport pipe. Requires Stone. | 20 mB/t | Will not connect to Cobblestone and Quartz Fluid Pipes. |
| Quartz | Standard liquid transport pipe. Requires Quartz. | 40 mB/t | Will not connect to Cobblestone and Stone Fluid Pipes. |
| Sandstone | Connects to other kinds of pipes, but does not connect to machines and inventories. | 20 mB/t | Allows Cobblestone, Stone and Quartz Fluid Pipes to connect. |
| Iron | Allows multiple input pipes to output in a single direction. | 40 mB/t | Direction that liquids flow can be changed with a Wrench. Connects to all Fluid Pipes. |
| Golden | Transports more liquid and does so faster than Cobblestone, Stone and Quartz Fluid Pipes. | 80 mB/t | Connects to all Fluid Pipes. |
| Diamond | Allows to sort different liquids into different output directions. | 80 mB/t | Connects to all Fluid Pipes. Settings for sorting can be changed with the Wrench. |
| Emerald | Allows extraction of liquids from a storage tank. Can extract 4x as much as Wooden Fluid Pipes. | 40 mB/t | Requires an engine or an Autarchic Gate attached to the pipe to pull the liquid out of a connected inventory. Rate of extraction depends on engine used but a maximum of 40 mB/t. |
| Void | Destroys liquids that pass into it. | 10 mB/t | - |
| Clay | Pushs the liquid to the nearest tank. If this tank is full, then the liquid is pushed to the next available tank. | 40 mB | Can connect to all other pipes. |
BuildCraft
 

Machines

Machines

·  ·  ·  ·  ·  ·  ·  ·  ·  ·  ·  ·  ·  ·  ·  ·  ·  ·  ·  ·  ·

 

·  ·  ·

 
 

Transportation

·  ·  ·  ·  ·  ·  ·  ·  ·  ·  ·  ·  ·  ·  ·  ·

 

Fluid Pipe

·  ·  ·  ·  ·  ·  ·  ·  ·  ·

 

·  ·  ·  ·  ·  ·  ·  ·

 

Other Pipes

·

 

Lenses

·  ·  ·  ·  ·  ·  ·  ·  ·  ·  ·  ·  ·  ·  ·  ·

 

Filter

·  ·  ·  ·  ·  ·  ·  ·  ·  ·  ·  ·  ·  ·  ·  ·

 

Misc

·  ·  ·

 
 

Resources

Liquids

·

 

Chipsets

·  ·  ·  ·  ·  ·  ·

 

·  ·  ·  ·  ·  ·  ·  ·  ·  ·

 

·  ·  ·  ·  ·  ·  ·  ·  ·  ·

 

·  ·  ·  ·  ·  ·  ·  ·  ·  ·

 

·  ·  ·  ·  ·  ·  ·  ·  ·  ·

 

·  ·  ·  ·  ·  ·  ·  ·  ·  ·

 

·  ·  ·

 

·  ·  ·  ·

 

Other

·  ·  ·  ·  ·  ·  ·  ·  ·  ·  ·

 
 

Robots

Robots

·  ·  ·  ·  ·  ·  ·  ·  ·  ·  ·  ·  ·  ·  ·  ·  ·

 

Redstone Boards

·  ·  ·  ·  ·  ·  ·  ·  ·  ·  ·  ·  ·  ·  ·  ·  ·

 
 

Misc

Tools

·

 

Paintbrush

·  ·  ·  ·  ·  ·  ·  ·  ·  ·  ·  ·  ·  ·  ·  ·

 

Biomes