---
Outdated translations are marked like this.
Feed The Beast (também conhecido como FTB) É um lançador, comunidade e um grande grupo de modpacks criados pelo Equipe do FTB. Originou-se como Um mapa de desafio personalizado que fez uso pesado de mods de tecnologia múltiplos, desenvolvidos por uma pequena equipe liderada por Slowpoke. Mais tarde evoluiu para um lançador e muitos modpacks.
História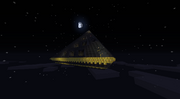 Feed The Beast was originally criado como um mapa de desafio personalizado, desenvolvido por uma pequena equipe Slowpoke. Foi anunciado em 24 de fevereiro de 2012 no Minecraft Forums[1]. O mapa era um mapa do bloco do céu; O jogador gerou em uma pequena plataforma em um mundo vazio, e deve superar uma série de desafios. Usando os mods de tecnologia no modpack, esses objetivos serão verificados automaticamente e serão recompensados.
O mapa foi depois adaptado para permitir que vários jogadores para competir uns contra os outros em uma corrida para completar os objetivos. Esta versão ganhou grande popularidade depois de ser transmitido ao vivo em Twitch.tv com Direwolf20 competindo contra Mattabase, ambos usuários muito conhecidos dos mods incluídos no mapa.
Depois que o mapa foi liberado, a equipe de FTB decidiu simplificar a instalação do modpack criando um lançador para distribuir automaticamente o mapa, mods e configuração para aqueles interessados em jogá-lo.
O mapa passou por várias iterações, incluindo o mapa rochoso - conhecido pelo desafio e estrutura de recompensa feita de rocha. No entanto, a maioria dos jogadores que se referem ao "mapa FTB" significa o mapa da pirâmide, conhecido por sua pirâmide de basalto grande que incluiu várias salas que listaram um conjunto de itens que o jogador tinha que criar para resolver cada desafio. Essa versão foi então atualizada para uma versão mais difícil, conhecida como FTB Insanity, que levou muitos jogadores de 50 a até mesmo mais de 100 horas de tempo de jogo para completar.
Depois de ouvir falar de muitos jogadores usando o modpack sem jogar o modpack, a Slowpoke anunciou a criação de um modpack novo, geral, em 13 de agosto de 2012, com um post no Minecraft Forums[2].
Uma característica importante do novo modpack foi a solicitação de permissões[3] dos desenvolvedores de modificação antes da inclusão dos mods desse desenvolvedor no modpack da FTB, que já havia causado Technic controvérsia.
O modpack foi centrado em mods construídos usando Minecraft Forge. Inicialmente focalizou mods de um tema técnico, como IndustrialCraft 2, BuildCraft, e RedPower 2, mas expandiu-se para incluir mods mágicos como Thaumcraft 3 e Mystcraft.
O mod pack inicial foi lançado como beta em novembro de 2012. Ele ficou no status beta por algum tempo devido à necessidade de os autores de mod atualizarem seus mods para a versão 1.4 do Minecraft, onde tudo se tornou baseado em servidor. Este processo provou ser um longo caminho para alguns dos mods que eram essenciais para o pacote.
Foram criadas outras versões do modpack FTB, incluindo a versão Lite , que reduziu a lista de mods para ajudar os novos usuários a aprender os prós e contras sem ser oprimido. A versãoMagic World , que se concentrou em mods de uma natureza mágica, também foi lançado.
Muitos modpacks FTB recentes incluem missões embutidas com Modo de Quest Hardcore, e alguns se concentram em outros temas e dificuldades. FTB Infinity Evolved contido dois modos - um modo normal e um "Modo Expert". No Modo Especialista, várias das receitas de vários blocos e itens foram modificados, forçando os jogadores a progredirem através de muitas árvores tecnológicas de mods para progredir. FTB Infinity Evolved às vezes foi citado como o modpack Minecraft mais popular da história.
O FTB Launcher
O lançador foi liberado como alfa durante um livestream por Slowpoke101. O número de downloads inicialmente superou o servidor, deixando muitos usuários frustrados. Depois de resolver os problemas do servidor, uma versão beta foi lançada. Um website, feed-the-beast.com,logo seguido. A primeira versão de produção também sofreu com o grande número de downloads, mas os problemas foram resolvidos em breve.
As principais características do launcher são:
Ele automaticamente baixa uma lista de modpacks FTB e modpacks de terceiros aprovados.
Ele automaticamente baixando todos os arquivos de instalação de modificação e criação da instância de minecraft.
Ele tem suporte de distribuição completa de todos os desenvolvedores dos mods incluídos no pacote.
Possui um conjunto planejado de arquivos de configuração, atribuindo identificações únicas a todos os blocos de modificação, evitando sobreposições que causam o desligamento do Minecraft e foram a freqüente perda de usuários tentando instalar manualmente mods.
Ele automaticamente downloading featured e mapas de terceiros, como o Feed the Beast desafio mapa.
Suporta o download de instâncias de servidor pré-configuradas, tornando muito fácil para os administradores hospedar os mods em um servidor.
Ele automaticamente downloading caracterizado e pacotes de textura de terceiros.
Aplicativo Twitch Desktop
Principal :

Twitch Desktop App
Após uma parceria com Curse, Inc., O FTB Launcher foi planejado para ser substituído pelo Aplicativo Curse, mais tarde renomeado para o Twitch Desktop App. O aplicativo Twitch Desktop permite a criação, configuração e uso do modpack mais fácil, embora esteja em versão beta. No entanto, como o aplicativo atualmente não Linux, O FTB Launcher ainda é suportado, mas está obsoleto.
On October 8 2019, it was publicly announced that the partnership between FTB and Twitch.tv had ended. As a result, on November 1 of that year, FTB planned to pull all of its content (modpacks and mods) from Twitch/CurseForge and migrate to self-hosting it. A revamp of the FTB Launcher was released on 6 April 2020.[4] Despite the announcement, the content has not yet been pulled from CurseForge
Referências
Modpacks Feed The Beast Official

1.16 modpacks

FTB Endeavour

Direwolf20 1.16

Unstable

FTB Cotton

FTB Academy 1.16

1.15 modpacks

1.14 modpacks

1.12 modpacks

FTB University

FTB Academy

FTB Builders Paradise

FTB Interactions

FTB Sky Odyssey

FTB Ultimate Reloaded

FTB Stoneblock 2

FTB Sky Adventures

FTB Continuum

FTB Pyramid Reborn

FTB Revelation

Feed The Beast Egg Hunt

Horizons III

Instável

Direwolf20

1.10.2 modpacks

Beyond

Direwolf20

HermitPack

Infinity Lite

SkyFactory 3

Skyfactory Challenges

Instável

1.9.4 modpacks

1.8.9 modpacks

1.7.10 modpacks

Crackpack

Cloud 9

Morto

Direwolf20

FTB Horizons: Daybreaker

FTBLite 3

Mage Quest

MOTM: Botania

Infinity

Infinity Evolved Skyblock

Invenções

SkyFactory 2.5

FTB Terra

Tridente

Ressurreição

PAX Prime 2015 Challenge

Instável

Vanilla Plus

1.6.4 modpacks

FTBLite2

Horizons

Magic World 2

Monstro

Tech World 2

1.5.2 modpacks

Direwolf20

Unhinged

Desencadeada

1.4.7 modpacks

Direwolf20

FTB Lite

FTB Ultimate

Magic World

MindCrack Pack

Pax Challenge Pack

Slow's Stream Pack

Tech World

YogCraft Modpack

1.4.2 modpacks

Feed The Beast Beta Pack A

1.2.5 modpacks

Feed The Beast Retro SMP

Feed The Beast Retro SSP

Comparações

1.7.10 modpacks

1.6.4 modpacks

1.5.2 modpacks

1.4.7 modpacks