---
Outdated translations are marked like this.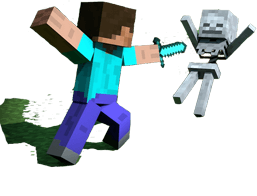 Dobrodošli na Oficijalni Feed The Beast Wiki
Dobrodošli na Oficijlani Feed The Beast Wiki! Ovde možete da nadjete informaciju o modovima, kolekcijama modova i mapama povezanih sa FTB. Ovde na Feed The Beast Wiki, primarno se fokusiramo na modovima u FTB kolekcijama modova, ali i ostali modovi su dozvoljeni. Trenutno imamo 27.820 naslova. Postoje mnogi načini da pomogneš, uključujući menjanje/pisanje člankova, menjanje/pisanje tema, i prosto nam davati svoje mišljenje,
Portal Zajednice
FTB Wiki Posada
O FTB
Odakle početi
Kolekcije modova
Kategorije
FTB Zajednica
Šta je Feed The Beast?
Feed the Beast, takođe poznat kao FTB, počeo je kao mapa koja je sadržala izazov u Minecraft-u i teško se oslanjala na modove. Igrala se vrlo slično kao vrsta mape koja je bila poznata kao Sky Block, gde bi igrač počeo u praznom svetu sa samo malom platformom, i mora da prevaziđe red izazova. Zato što FTB uključuje tehnološke modove, bilo je moguće koristiti razne blokove i stvari da prate izazove i napredak igrača, kao i automatski da daje nagrade posle svakog izazova.
Ova mapa je potom bila prilagođena da dozvoli više igrača da se takmiče međusobno u trci da završe izazove. Ova verzija je dobila ogromnu popularnost posle uživog prikazivanja na Twitch.TV sa Direwolf20 protiv Mattabase, obojica vema poznatih korisnika modova uključenih u mapi.
Kako je mapa bila puštana u javnost, postalo je očigledno da je veoma teško deliti mapu, modove, i konfiguraciju onim koje je interesovalo da igraju. U jednom trenutku doneta je odluka da se kombinuju svi modovi u jednu kolekciju modova koja može lako da se deli, i takođe da se napravi program za pokretanje koji bi skidao te kolekcije.
Mapa je prošla kroz razne promene, uključujući mapu od temeljca - poznata po strukturi izazova i nagrada od temeljca. Međutim većina igrača koji pričaju o FTB mapi, iskreno misle na mapu sa piramidom, poznata po velikoj piramidi sa bazaltom koja sadrži razne sobe koje su listale stvari koje igrač mora da napravi kako bi završio svaki izazov. Ta verzija je poboljšana na težu verziju, poznatu kao FTB Insanity, koja je zahtevala većini igrača 50 do 100 sati igre kako bi je potpuno prešli.
Kolekcije modova su centrirane oko modova napravljenih za Minecraft Forge platformu. U početku su se fokusirali na tehničku temu, poput IndustrialCraft 2, BuildCraft, i RedPower 2. Međutim, onda se proširilo na druge žanrove, poput magičnih modova kao Thaumcraft i Mzstcraft.
Početna kolekcija modova je izbačena kao beta u Novembru 2012. Ostala je u beti neko vreme zbog potrebe da autori modova ažuriraju svoje modove na Minecraft verziju 1.4, gde je sve krenulo da se oslanja na server. Ovaj proces se pokazao kao dug put za neke od modova koji su centar kolekcije.
Ostale verzije FTB kolekcija modova su napravljene, uključujući FTB Lite, koji smanjuje listu modova kako bi pomogli novim korisnicima da nauče o modovima bez preopterećenja. Magic World kolekcija, koja se fokusirala na modove magične prirode, je takođe izbačen.
Mnoge koleckije modova su izbačene od tad, i bile ažurirane na verzije 1.4, 1.5, 1.6, 1.7, i 1.8 verzije Minecrafta. Sve kolekcije modova koje se nalaze na FTB programu za pokretanje mogu se naći na stranici sa Kolekcijama modova. Modovi uključeni u FTB kolekcije se mogu naći u Kategoriji sa Modovima.
Program za pokretanje pušten je u rad tokom uživog prenosa Slowepoke101-a. Broj skidanja je brzo preopteretio server, ostavljajući brojne korisnike iznervirane. Posle sređivanja tih problema, beta verzija je izbačena. Sajt, feed-the-beast.com, je ubrzo pratio.
Glavne funkcije su:
Automatsko skidanje liste FTB kolekcija modova i dozvoljenih kolekcija sa treće strane.
Automatsko skidanje svih fajlova za instalaciju i kreaciju instance Minecrafta.
Puna podrška distribucije svih autora modova u kolekciji modova.
Isplanirana kolekcija konfiguracija, dodeljivanje jedinstvanih brojeva svim modovanim blokovima, stvarima, dimenzijama, stvorenjima, poboljšanjima, i tečnostima, sprečavajući preklapanja koja izazivaju Minecraft da prestane sa radom i bili su česta začkoljica korisnicima koji su hteli ručno da instaliraju modove.
Automatsko skidanje izabranih mapa, kao Feed the Beast mapa sa izazovima.
Podržava skidanje pre-konfigurisanih instanci servera, čineći vrlo lako adminima da drže modove na serveru.
Sada kada znaš malo o Feed the Beastu, kreni na Stranicu za Početak da naučiš kako da instaliraš program za pokretanje, izabereš kolekciju modova, i počneš da igraš!

Modovi
Template:Alphabetical category list/sr