---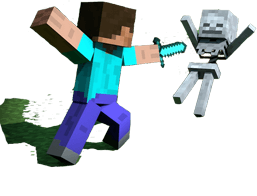 Bem-vindo à Feed The Beast Wiki Oficial
Bem-vindo à Feed The Beast Wiki Oficial! Aqui você pode encontrar informações sobre mods, modpacks e mapas relacionados ao FTB. Aqui no Feed The Beast Wiki, nós nos concentramos principalmente em mods em FTB modpacks, mas outros mods também são permitidos. Atualmente, temos 27 815 artigos. Há muitas maneiras que você pode ajudar, incluindo edição/criação de artigos, edição/criação de modelos e simplesmente dando-nos feedback.
Que é Feed The Beast?
Feed the Beast, também conhecido como FTB, Originou como um mapa de desafio personalizado para Minecraft que fez uso pesado de muitos mods. Ele jogou muito semelhante a um tipo de mapa conhecido como Sky Block, onde o jogador é iniciado em um mundo vazio com apenas uma pequena plataforma, e deve superar uma série de desafios. Como o FTB incluiu mods de tecnologia, foi possível usar os vários blocos e itens personalizados para acompanhar os desafios e o progresso do jogador, além de conceder prêmios automaticamente depois que cada desafio foi atingido.
O mapa foi adaptado então para permitir que os jogadores múltiplos competem uns contra os outros em uma corrida para completar os objetivos. Esta versão ganhou grande popularidade depois de ser transmitido ao vivo em Twitch.TV com Direwolf20 vs Mattabase, ambos muito conhecidos usuários dos mods incluídos no mapa.
Como o mapa foi lançado ao público, tornou-se evidente que era muito difícil distribuir o arquivo de mapa, mods e configurações para aqueles interessados em jogá-lo. Em algum momento uma decisão foi feita para combinar todos os mods em um pacote facilmente distribuível, bem como criar um lançador que iria stream-line instalação.
O mapa passou por várias iterações, incluindo o mapa rochoso - conhecido pelo desafio e estrutura de recompensa feita de rocha. No entanto a maioria dos jogadores que se referem ao mapa FTB, realmente significa o mapa de pirâmide, conhecida por sua pirâmide de basalto grande que incluiu várias salas que listaram um conjunto de itens que o jogador tinha que criar para resolver cada desafio. Essa versão foi então atualizada para uma versão mais difícil, conhecida como FTB Insanity, que levou muitos jogadores de 50 a até mesmo mais de 100 horas de tempo de jogo para completar.
Os modpacks são centrados em mods construídos sobre a plataforma Minecraft Forge. Eles inicialmente se concentraram em mods de um tema técnico, como IndustrialCraft 2, BuildCraft e RedPower 2. No entanto, em seguida, expandiu para outros gêneros, como magia mods como Thaumcraft e Mystcraft.
O modpack inicial foi lançado como beta em novembro de 2012. Permaneceu no status beta por algum tempo devido à necessidade de os autores de mod atualizarem seus mods para a versão 1.4 do Minecraft, onde tudo se tornou baseado em servidor. Este processo provou ser um longo caminho para alguns dos mods que eram essenciais para o pacote.
Outras versões do FTB Modpacks foram criadas, incluindo FTB Lite, que reduziu a lista de mods para ajudar os novos usuários a aprender os meandros sem ser sobrecarregado. Um pacote de Magic World, que se concentrou em mods de natureza mágica, também foi lançado.
Muitos modpacks foram liberados e foram atualizados para as versões 1.4, 1.5, 1.6, 1.7 e 1.8 do Minecraft. Todos os modpacks apresentados no FTB Launcher podem ser encontrados na página Modpacks. Mods incluídos no FTB modpacks podem ser encontrados na categoria Mods.
O launcher foi liberado como alfa durante um livestream por Slowpoke101. O número de downloads rapidamente subjugou o servidor, deixando muitos usuários frustrados. Depois de resolver os problemas do servidor, uma versão beta foi lançada. Um site, feed-the-beast.com, logo seguiu.
As características principais do launcher são:
Automaticamente o download de uma lista de FTB modpacks e modpacks de terceiros aprovados.
Automaticamente baixar todos os arquivos de instalação de modificação e criação da instância do Minecraft.
Suporte de distribuição completa de todos os desenvolvedores dos mods incluídos no modpacks.
Um conjunto planejado de arquivos de configuração, atribuindo identificações únicas a todos os blocos de modificação, itens, dimensões, criaturas, encantamentos e líquidos, evitando sobreposições que fazem com que o Minecraft falhe e sejam a freqüente bane dos usuários tentando instalar manualmente mods.
Automaticamente o download de mapas em destaque, como o Feed the Beast desafio mapas.
Suporta o download de instâncias de servidor pré-configuradas, tornando muito fácil para os administradores hospedar os mods em um servidor.
Agora que você sabe um pouco sobre Feed the Beast, vá para a página Começando para saber como instalar o launcher, escolher um modpack e começar a jogar!