---
Outdated translations are marked like this.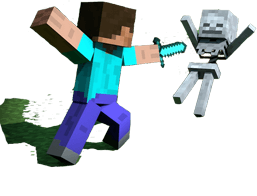 Witaj na Oficjalnej Wiki Feed The Beast
Witaj na Oficjalnej Feed The Beast Wiki! Znaleźć tutaj możesz informacje o modyfikacjach, paczkach modyfikacji oraz o mapach powiązanych z FTB. Tu, na Feed The Beast Wiki, skupiamy się głównie na modyfikacjach w paczkach FTB, lecz inne także są dozwolone. Aktualnie posiadamy liczbę 27 800 artykułów. Istnieje mnóstwo sposobów, żebyś mógł nam pomóc, chociażby edycja/tworzenie artykułów czy szablonów, oraz po prostu zostawienie po sobie feedbacku.
Czym jest Feed The Beast?
Feed the Beast, zwane także FTB, oryginalnie nazwa dla niestandardowej mapy survival dla gry Minecraft, która używała dużej ilości modyfikacji. Była bardzo podobna do mapy znanego typu Sky Block, gdzie gracz zaczyna w świecie nad próżnią na małej platformie oraz musi przetrwać wykonując serię wyzwań. Ponieważ FTB zawierało mody techniczne możliwe było użyć wielu wariacji niestandardowych bloków i przedmiotów, ażeby przetrzymywać postęp gracza i wyzwań, tak samo jak automatyczne przyznawanie nagród po wykonaniu każdego zadania.
Mapa pozwalała na rozgrywkę wielu graczom w wyścigu na wykonanie wszystkich wyzwań oraz pokonanie przeciwników. Ta wersja mapy zyskała bardzo dużą popularność po strumieniowaniu na żywo pojedynku graczy Direwolf20 kontra Mattabase w serwisie Twitch.TB, którzy bardzo dobrze znali modyfikacje zawarte w mapie.
Gdy mapa została wydana, okazało się, że trudna będzie dystrybucja plików mapy, modyfikacji oraz ustawień konfiguracyjnych dla zainteresowanych. Wkrótce zawarta została decyzja o połączeniu wszystkich modyfikacji w łatwo-dystrybuowaną paczkę, tak samo jak utworzenie programu uruchamiającego który także pozwalałby na prostą instalację.
Mapa przeszła wiele powtórek z rozgrywki, w tym mapa bedrockowa - znana jako struktura wyzwań i nagród stworzona ze skały macierzystej. Jednak wielu graczy odwołując się do mapy FTB, wolą nazwę mapa piramidy, znana ze względu na istniejącą tam bazaltową piramidę, która posiadała wiele pokoi powiązanych z najprzeróżniejszymi przedmiotami, które gracz musiał stworzyć po to, ażeby rozwiązać każde zadanie. Ta wersja została zaktualizowana do nowszej, zwanej FTB Insanity, która może zabrać graczom od 50 do nawet 100 godzin rozgrywki do jej pełnego zakończenia.
Paczki modyfikacji skupiały się na modyfikacjach zbudowanych na platformie Minecraft Forge. Skupiały się one na modyfikacjach z tematem technicznym, takie jak IndustrialCraft 2, BuildCraft oraz RedPower2. Jednakże rozrosło się to do innych gatunków, chociażby modyfikacji związanych z magią, jak na przykład Thaumcraft czy Mystcraft.
Sama paczka modyfikacji została wydana w listopadzie 2012 w wersji beta. I została w takim stanie na pewien okres czasu z powodu konieczności zaktualizowania modyfikacji przez ich autorów do wersji Minecrafta 1.4, gdzie wszystko przeistoczyło się na bazowane na serwerze. Ten proces był długą drogą dla niektórych modyfikacji, które były wręcz rdzeniem paczki.
Zostały utworzone też inne wersje paczek FTB takie jak FTB Lite, które posiada mniejszą ilość modyfikacji, żeby przystosować nowych graczy i nauczyć ich wszystkiego bez przemęczenia. Została wydana także paczka Magic World, skupiająca się na modyfikacjach związanych z magiczną naturą.
Wydane zostało wiele paczek, oraz zostały zaktualizowane na wersje Minecrafta 1.4, 1.5, 1.6, 1.7 oraz 1.8. Wszystkie paczki dostępne w FTB Launcherze można znaleźć na stronie Modpacks. Modyfikacje zawarte w paczkach FTB można znaleźć w kategorii Mods.
Launcher został wydane jako wersja alpha podczas strumieniowania na żywo gracza Slowpoke101. Liczba pobrań przemęczyła serwer, przez co wielu graczy było sfrustrowanych. Po naprawieniu problemów z serwerem została wydana wersja beta. Wkrótce także pojawiła się witryna feed-the-beast.com.
Głównymi cechami launchera są:
Automatyczne pobieranie listy paczek FTB oraz potwierdzonych paczek osób trzecich.
Automatyczne pobieranie wszystkich plików instalacyjnych modyfikacji oraz utworzenie instancji Minecrafta.
Pełne wsparcie od deweloperów wszystkich paczek zawarte właśnie w packach.
Planowane ustawienia plików konfiguracyjnych, przypisywanie unikalnych ID do wszystkich bloków, przedmiotów, wymiarów istot, czarów oraz płynów w modyfikacjach, powstrzymując gryzienie które może spowodować posypanie się procesu Minecrafta kiedy istniały osoby próbujące instalować modyfikacje ręcznie.
Automatyczne pobieranie zawartych map, jak na przykład mapy wyzwań Feed the Beast.
Wspiera pobieranie pre-konfigurowanych instancji serwerów, sprawiając prostotę dla administratorów na hostowanie modyfikacji na serwerze.
Teraz, kiedy już znasz trochę z historii Feed the Beast, przenieś się na stronę Na początek by dowiedzieć się, jak zainstalować launcher, wybierz paczkę i zacznij grać!