---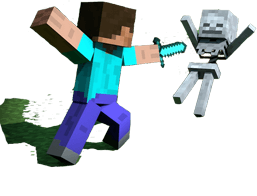 Welkom op de officiële Feed the Beast Wiki
Welkom op de officiële Feed The Beast Wiki! Hier kan je informatie vinden over mods, modpacks, en werelden in relatie tot FTB. Hier bij de Feed The Beast Wiki focussen we vooral op mods in FTB modpacks, maar andere mods zijn ook toegestaan. We hebben op het moment 27.820 artikelen. Er zijn veel manieren waarop je kan helpen, waaronder het maken en bewerken van pagina's, het maken en bewerken van sjablonen, en simpelweg feedback achterlaten.
Wat is Feed The Beast?
Feed the Beast, ook bekend als FTB, begon als een aangepaste uitdagingswereld voor Minecraft die veel modpacks gebruikte. Het leek heel erg op een maptype bekend als Sky Block, waar de speler begint in een lege wereld met alleen een klein platform, en een aantal uitdagingen moet voltooien. Omdat FTB technologie-mods bevatte was het mogelijk om de verschillende aangepaste blokken en voorwerpen te gebruiken om de uitdagingen en de voortgang van de speler bij te houden, alsook automatisch prijzen geven nadat een uitdaging was voltooid.
De wereld werd toen aangepast om meerdere spelers tegen elkaar te laten strijden in een race om de uitdagingen te voltooien. Deze versie werd heel populair nadat deze was gestreamed op Twitch.TV met Direwolf20 tegen Mattabase, allebei zeer bekende gebruikers van de mods die bij de wereld zaten.
Toen de wereld publiek werd gemaakt werd het duidelijk dat het moeilijk was om de wereld, mods, en configuratie-instellingen te distribueren naar degenen die geïnteresseerd waren om het te spelen. Op een bepaald punt is de beslissing gemaakt om alle mods samen te voegen in een makkelijk te distribueren pakket, en een launcher te maken om het installeren te stroomlijnen.
De wereld ging door meerdere iteraties, waaronder de bedrock-wereld - bekend om de uitdaging en het prijs-structuur gemaakt van bedrock. Desondanks bedoelen de meeste mensen die het hebben over de FTB wereld de pyramide-wereld, bekend om zijn grote bazaltpyramide die meerdere kamers bevatte waarin een lijst stond met een set voorwerpen die de speler moest maken om de uitdaging op te lossen. Die versie werd toen geüpdate naar een moeilijkere versie, bekend als FTB Insanity, die vele spelers 50 tot zelfs meer dan 100 uur kostte om volledig te voltooien.
De modpacks zijn gecentraliseerd om mods die zijn gebouwd op het Minecraft Forge-platform. Zij focusten in het begin vooral op mods met een technisch thema, zoals IndustrialCraft 2, BuildCraft, en RedPower 2. Daarna is het echter uitgebreid naar andere genres, zoals magie-mods als Thaumcraft en Mystcraft.
De eerste modpack werd uitgegeven als beta in november 2012. Deze bleef in beta voor een tijd omdat modmakers hun mods moesten updaten naar Minecraft versie 1.4, waarin alles server-gebaseerd werd. Dit proces bleek langdradig voor een aantal mods die in de kern van het pakket zaten.
Andere versies van de FTB modpacks werden gemaakt, waaronder FTB Lite, waarin minder mods zaten om nieuwe spelers de ins en outs te laten leren zonder overdonderd te worden. Een Magic World pakket, die focuste op mods met een magische basis, werd ook uitgebracht.
Sindsdien zijn er vele modpacks uitgebracht, en zijn geüpdate naar de 1.4, 1.5, 1.6, 1.7, en 1.8-versies van Minecraft. Alle modpacks op de FTB Launcher kunnen gevonden worden op de Modpacks-pagina. Mods die in FTB modpacks zitten kunnen worden gevonden in de Mods-categorie.
De launcher was vrijgegeven als alpha tijdens een livestream van Slowpoke101. Het aantal downloads werd de servers snel te veel, dit leidde tot frustratie bij de spelers. Na het oplossen van de server problemen kwam er een bètaversie. Al snel volgde de feed-the-beast.com website.
De hoofdfuncties van de launcher zijn:
Automatisch download een lijst van FTB modpacks en goedgekeurde externe modpacks.
Automatisch download alle mod installatiebestanden en creëert een Minecraft instantie.
Volledige verdelingsondersteuning van alle ontwikkelaars van de mods die in de modpacks zitten.
Een geplande verzameling van configuratiebestanden, deze kennen unieke id's toe aan alle blokken, voorwerpen, dimensies, wezens, betoveringen en vloeistoffen. Op deze manier is er geen overlap, wat Minecraft zou doen crashen zoals vele gebruikers ondervonden als ze zelf mods wilden installeren.
Automatisch download aanbevolen mappen, zoals de FTB challenge mappen.
Ondersteund het downloaden van vooraf geconfigureerde server instanties, dit maakt het gemakkelijker voor adminstrator om servers op te zetten.
Nu dat je wat meer over Feed the Beast weet kan je naar de Beginnen pagina te leren hoe je de launcher moet installeren. Kies een modpack en begin met spelen!