---
Outdated translations are marked like this.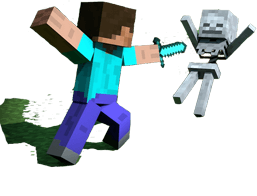 Benvenuti nella pagina Ufficiale della Feed The Beast Wiki.
Benvenuti nella pagina Ufficiale della Feed The Beast Wiki! Qui troverai informazioni sulle mod,modpacks,e mappe di FTB. Qui nella Feed The Beast Wiki, ci concentriamo soprattutto sui modpaks di FTB, ma sono ammesse anche altre mod. Al momento abbiamo 27 820 pagine. Ci sono molti modi per darci una mano, come modificare/creare pagine, modificare/creare template, o semplicemente dandoci un tuo feedback.
Cos'è Feed The Beast?
Feed The Beast, anche conosciuta come FTB, originariamente era una custom challenge map per Minecraft che faceva un uso massiccio di svariate mod. Si giocava in maniera molto simile ad una mappa Sky Block, dove il giocatore spawna in un void world su di una piccola piattaforma, e si affrontano una serie di sfide. Dato che FTB include tech mod, è stato possibile usare molti oggetti e blocchi per seguire il progresso del giocatore e delle prove che affronta, così come premiere automaticamente il giocatore per ogni sfida superata.
La mappa poi è stata modificata in modo tale che i giocatori si potessero sfidare in una gara a tempo nel superare tutte le sfide. Questa versione divenne molto popolare dopo il live-stream su Twitch.tv con Direwolf20 contro Mattabase, tutti e due esperti delle mod incluse nella mappa.
Mentre la mappa veniva resa pubblica, è subito emerso che era molto difficile distribuire il file della mappa, delle mods, e delle impostazioni di configurazione per chi fosse interessato a giocarci. Ad un certo punto si è deciso di unire tutte le mods in un pack facilmente ridistribuibile, ed anche un launcher per facilitarne l'installazione.
La mappa subisce varie modifiche, tra cui la mappa bedrock, conosciuta per le sfide e le strutture di bedrock. Tuttavia molti giocatori che parlano della mapa di FTB, in realtà si riferscono alla mappa pyramid, conosciuta per la grande piramide di basalto al cui interno si trovano varie stanze abbinate ognugna ad un differente insieme di oggetti che il giocatore deve creare per superare ogni sfida proposta. Questa versione della mappa fu successivamente modificata per renderla ancora più difficile, conosciuta come FTB Insanity, che portano il giocatore a spendere dalle 50 fino alle 100 ore di gioco per poter superare tutte le sfide.
I modpack sono incentrati sulle mod che funzionano con Minecraft Forge. All' inizio si era incentrati sulle mod a tema tecnologico come IndustrialCraft 2, BuildCraft e RedPower 2. Tuttavia si è espanso anche in altri generi con mod a tema magico come ad esempio Thaumcraft e Mystcraft.
Il modpack originale fu rilasciato in versione beta nel novembre 2012. E' rimasto in beta per molto tempo per permettere ai crteatori delle mod di effettuare gli update a Minecraft 1.4, dove tutto è server based. Questo processo ha richiesto molto tempo per alcune delle mod principali che erano nel modpack.
Altre versioni dei modpack di FTB sono state creati, come FTB Lite, che diminuiva il nomero di mod presenti nel modpack per aiutare gli utenti a capire il mondo delle mod. E' stato anche rilasciato un pack chiamato Magic World Pack incentrato su mod a tema magico.
Da allora sono stati pubblicati molti modpack, ed anche aggiornati da Minecraft 1.4, 1.5, 1.6, 1.7 ed 1.8. Tutti i modpack che sono presenti sul Launcher di FTB possono essere consultati nella pagina Modpacks. Le mod incluse nei modpack di FTB sono invece consultabili alla pagina Mods.
Il launcher è stato rilascito in versione alpha durante un live-stream di Slowpoke101. Il numero di dowload ha subito sovraccaricato il server, facendo si che molti utenti non riuscirono a scaricarlo. Una volto risolto il problema, fu rilasciata una versione beta. Fu seguita anche dal sito feed-the-beast.com .
Le funzioni principali del launcher sono:
Download automatico della lista dei modpack di FTB e dei 3Download automaticord party modpaks.
Dowlnoad automatico di tutte le mod, dei file di installazione, e la creazione di una nuova instanza Minecraft.
Una serie di file di configurazione, che assegna ID unici a tutti i vlocchi, oggetti, dimensioni, creature, incantesimi, e liquidi presenti nelle varie mod, prevendo il crash di Minecraft che accadeva spesso quando si installavano manualmente le singole mod.
Dowanload automatico di custom map, come ad esempio la Feed The Beast challenge map.
Supporto per il download di server preconfigurati, rendendo facile l'host delle mod sul server.
Adesso che sai un pò di più su Feed The Beast, vai alla pagina Getting Started e segui le istruzioni per installare il Launcher di FTB, scaricare un modpack, ed iniziare a giocare!