---
Outdated translations are marked like this.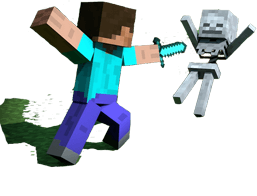 Bienvenue sur le Wiki Officiel Feed the Beast
Bienvenue sur le Wiki Officiel de Feed the Beast! Ici, vous pouvez trouver des informations sur des mods, des modpack" et des cartes relatif à FTB. Sur le Wiki, nous nous concentrons généralement sur les mods inclut dans les modpacks FTB, mais d'autres mods sont aussi acceptés. Nous avons 27 815 articles. Il y a plusieurs façons de nous aider, notament par la création d'articles ainsi que leurs modifications, la création de modèles et la modification de ces derniers, vous pouvez également nous donner votre avis.
Qu'est ce que Feed the Beast?
Feed the Beast, aussi connue sous l'acronyme FTB, a débuté avec la création d'une carte basé sur des défis, ainsi que l'ajout de beaucoup de mods. C'était une carte de type "Skyblock", dans laquelle le joueur doit franchir une série de défis, mais avec l'ajout de mods technologique, il était possible d'utiliser différents objets pour suivre les défis et la progression du joueur, le joueur était aussi automatiquement récompensé après chaque défi franchi.
La carte fut donc adaptée en multijoueur pour permettre à plusieurs joueurs de s'affronter dans une course pour compléter les objectifs. Cette version à grimpé en popularité après que le streamer et youtuber Direwolf20 ait fait un live sur Twitch.TV contre Mattabase, les deux étant des joueurs connus sur ce type de modpack.
A la suite de la publication de la carte, il devenu évident qu'il fallait distribuer le fichier de la carte, les mods ainsi que les configurations, ce qui rendait l'installation de cette carte difficile pour ceux qui voulaient y jouer. À un moment donné, une décision a été faite de combiner tous les mods sur un pack qui est facilement distribuable, un lanceur (Anglais: launcher) fut donc crée pour faciliter l'installation.
La carte connu de nombreuse variante, y compris la version Bedrock (Anglais: the bedrock map) - connu pour le défi et ses récompense faite de bedrock. Pourtant, la majorité des joueurs qui se réfèrent à cette carte, parlent de la version avec la pyramide (Anglais: the pyramid map), connu pour sa pyramide géante en basalte qui comprenait plusieurs salles qui listais une série d'objets que le joueur devait créer pour franchir chaque défi.Une version plus difficile de cette carte apparu sous le nom de "FTB Insanity, dont la durée de vie était de 50 à 100 heures.
Les modpacks sont centrées autour de mods basée sur la plateforme Minecraft-Forge. Ils se concentrent initialement sur les mods technologiques, comme IndustrialCraft 2, BuildCraft et RedPower 2. Maintenant les modpacks regroupent d'autres genres de mods, par exemple des mods de magie comme Thaumcraft et Mystcraft.
Le modpack initial a été publié en bêta en novembre 2012. Il est resté en bêta pour un moment à cause du fait que les auteurs des mods devaient mettre à jour leurs mods pour Minecraft version 1.4, dans lequel tout était basé sur des serveurs. Ce processus à duré longtemps pour certain mods qui était le noyau du modpack.
D'autres modpack ont été créées, par exemple FTB Lite, qui réduit la liste des mods pour permettre aux nouveaux joueurs de ne pas être submerger par le nombre de mods. Il y a aussi Magic World, qui se concentrait sur les mods magique.
Depuis cela, de nombreux modpacks ont été publiés et mises en jour pour les versions suivantes de Minecraft: 1.4, 1.5, 1.6, 1.7 et 1.8. Tous les modpacks dans le FTB Launcher peuvent être trouvés dans la catégorie des Modpacks. Les mods compris dans les modpacks FTB peuvent être trouvés dans la catégorie des Mods.
Le launcher a été publié en version alpha pendant un live de Slowpoke101. Le nombre de téléchargements a rapidement dépassé la capacité du serveur, laissant de nombreux utilisateurs frustré. Après avoir résolu les problèmes de serveur, une version bêta a été publiée. Un site web, feed-the-beast.com à suivit.
Les fonctionnalités principales du lanceur sont :
Téléchargement automatique d'une liste des modpacks FTB et des modpacks tierce approuvées.
Téléchargement automatique de tous les fichiers d'installation des mods et création de l'instance Minecraft.
Une distribution complète de support de tous les développeurs des mods y compris les modpacks
Un ensemble planifié des fichiers de configurations, qui permet d'attribuer des IDs uniques pour tous les blocs, objets, dimensions, créatures, enchantements et liquides des mods, pour empêcher le problème des objets ayant la même IDs ce qui cause le plantage de Minecraft.
Téléchargement automatique des cartes en vedettes, comme les cartes de défis Feed the Beast.
Téléchargement d'instance serveur préconfigurés pour faciliter la création de serveur.
Maintenant que vous savez un peu sur Feed the Beast, veuillez aller au Guide de Démarrage pour savoir comment installer le lanceur, chosir un modpack et commencé à jouer!