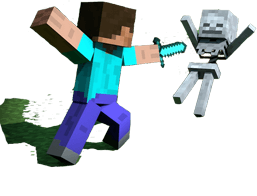 Bienvenido/a a la Wiki Oficial de Feed The Beast
¡Bienvenido/a a la Wiki Oficial de Feed The Beast! Aquí, vos podés encontrar información de mods, modpaquetes, y mapas en relación a FTB. Aquí a la Wiki de Feed The Beast, nosotros centramos en mods que está en modpaquetas por FTB, pero otros mods están permitido también. Ahora, tenemos 27,814 artículos. Hay muchas maneras que podés ayudar, como editando y creando artículos, plantillas, y nos das tu reacción.
Portal para la Comunidad
Personales de la Wiki de FTB
Sobre FTB
Empezando
Modpaquetes
Categorías
La Comunidad de FTB
¿Qué es Feed The Beast?
Feed the Beast, también conocido como FTB, es de un mapa de retos para Minecraft que hizo uso pesado de muchos mods. Fue muy parecido a un tipo de mapa conocido como Bloque de Cielo, cuando el jugador está comenzado en un mundo de nada con solo una platformita, y ello necesita superar un series de retos. Estuví posible a usar los bloques y artículos varios a recordar de los retos y los progresos del jugador, como también automáticamente se da premios después de cada reto, porque FTB incluyen mods tecnologío.
Entonces, la mapa adaptó a permitir jugadores múltiples para competir contras cadas en una carrera para completar los objetivos. Este versión obtuvo popularidad granda después de estuvo live-streamed en Twitch.TV con Direwolf20 y Mattabase, ambos son usuarios conocidos de los mods que fue incluyen en la mapa.
Cuando la mapa estuvo publicado al público, volvió aparente que estuvo difícil para distribuir el archivo de mapa, mods, y ajustes de configuración a ellos que querieron a lo jugar. A algún momento, una decisión estuvo hacer a combinar todos de los mods en un paquete que estuvo fácilmente dado a todos, y crear un lanzador que aceleró y automatizó la instalación.
La mapa ha estuvo en iteraciónas varias, incluyen la mapa de piedra base - cuál es conocido para el estructura para retos y recompensas, cuál es hecho de piedra base. Sin embargo, mayorías jugadores que remite a la mapa de FTB, sinceramente dice la mapa de la pirámide, cuál es conocido para su pirámide grande de basalto que incluyeron cuartos varios que enumeraron un juego de artículos que el jugadore necesitó a crear a solvar cada reto. Este versión, entonces, estuvo actualizado a una versión más difícil, conocido como FTB Locura, cuál los jugadores requirieron 50 a más de 100 horas de horas para jugando a completir.
Los modpaquetes están centrado en mods que están fornido en la platforma de Minecraft Forge. Ellos primero concentraron en mods tecnologíos, como IndustrialCraft 2, BuildCraft, y RedPower 2. Sin embargo, entonces amplió a otros géneros, como mods mágicos como Thuamcraft y Mystcraft.
El modpaquete primer estuvo publicado como beta en noviembre de 2012. Se quedó como beta para alguno tiempo porque de la necesidad para autores de mods a actualiar sus mods a la versión 1.4 de Minecraft, cuando todas cosas han volvido basado en servidores. Eso proceso resultó en un calle largo para algunos de los mods que estuvo necesidad al paquete.
Otras versiónas de los Modpaquetes FTB estuvo creado, incluyen FTB Lite, cuál aldegazó la lista de mods a ayudar con usuarios nuevos aprendiendo los entradas y salidas sin ellos estando abrumado. Un paquete de Mundo Mágico, cuál concentrado en mods mágicos, estuvo publicado también.
Muchos modpaquetes han estado publicado, y han estado actualizado a las versiónas de 1.4, 1.5, 1.6, 1.7 y 1.8 de Minecraft. Todos paquetes en el FTB Launcher pueden estar fundado en la página de Modpaquetes. Mods incluido en el modpaquetes FTB pueden estar fundado en la Categoría de los Mods.
El launcher estuvo publicado como alpha durante un livestream por Slowpoke101. El número de descargas ambrumaron rápidisimo al servidor, dejando muchos usuarios fustrados. Después de la pregunta del servidor estuvo resolvido, un versión beta estuvo publicado. Un sitio web, feed-the-beast.com, pronto seguido.
Las características principales del launcher son:
Automáticamente descargando una lista de paquetes FTB y paquetes terceros abrobados.
Automáticamente descrgando todos archivos de instalación del mod y creando Minecraft.
Apoyo completo de los creadores para distribuyendo sus mods en los modpaquetes.
Un juego planificado de archivos para configuración, asignando IDs únicos a todos bloques, artículos, mundos, criaturas, encantamentes, y fluídos, cuál impede conflictos que chocan Minecraft.
Automáticamente descargando mapas destacados, como los mapas de retos de Feed the Beast.
Apoya descargando de servidores pre-configurados, cuál lo se hace muy fácil para papeleos están a ser la sede de en un servidore.
¡Ahora que sabés un pocito sobre en Feed the Beast, andá a la página de Empezando a aprender como instalar el launcher, esoger un paquete, y jugar!