Raise a Floppa - The Loop
Play Sound
FTB Infinity Lite 1.10
Maintained by
The FTB Team
Version info
Current stable
1.1.0
Minecraft
1.10.2
| | | |
| --- | --- | --- |
| " | Infinity Lite is a mix of Tech and Magic mods compiled into a medium sized modpack from the FTB team that is designed for solo play as well as small and medium population servers. | " |
| | — FTB Infinity Lite 1.10's CurseForge page | |
FTB Infinity Lite 1.10 is a Feed The Beast and CurseForge modpack created by the FTB Team. It is a general, medium-sized "kitchen-sink" modpack.
Main Menu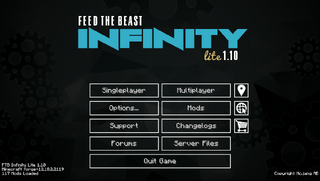 Mods included
The full, up to date modlist can be found here
Criticism
FTB Infinity Lite 1.10 has been criticized for its similar name to Infinity 1.7, which is often just referred to as "FTB Infinity".[1]. Although a community vote on the FTB Forums had the majority of voters requesting a change, no change has been taken so far[2]. However, the FTB Team decided to rename their next pack from FTB Infinity 1.10 to FTB Beyond based on the criticism[3].
References
Feed The Beast

1.16 modpacks

Unstable

FTB Cotton

FTB Academy 1.16

FTB University 1.16

FTB Ultimate: Anniversary Edition

1.15 modpacks

1.14 modpacks

1.12 modpacks

1.10.2 modpacks

1.9.4 modpacks

1.8.9 modpacks

1.7.10 modpacks

MOTM: Botania

PAX Prime 2015 Challenge

1.6.4 modpacks

1.5.2 modpacks

1.4.7 modpacks

1.4.2 modpacks

1.2.5 modpacks

Mods

FTB Industrial Contraptions

FTB Quests

FTB Structures

FTB Sluice

FTB Jar Mod

FTB Money

FTB Chunks

FTB Teams

FTB Ranks

FTB Ultimine

FTB Essentials

FTB Power Pots

FTB Dripper

FTB Backups

FTB Team Islands

FTB Banners

FTB Library

FTB Academy Mod

FTB Tutorial Mod

FTB Guides

FTB Islands

Bedrock maps

Vampires

Mystery Isles

Aqua Challenge

Dome Disaster

Stoneblock

Glimmerfrost Tarn

Bedrock skin packs

Steampunk Teens

Cyber Hacked

Neko

Pumpkin Patch

Monster High Teens

Dune Warriors

Vamp Teens

Japanese Festival

Animal Print Teens

Underwater Teens

Pirates

Virtual Pop Stars

Bedrock misc content

Comparisons