FTB Infinity Evolved
Maintained by
The FTB Team
Description
A general modpack for 1.7.10 that has two modes you can play on Normal and Expert.
Version info
Current stable
3.1.0
Minecraft
1.7.10
Forge
10.13.4.1614
FTB Infinity Evolved (originally named Infinity) is a Feed The Beast and CurseForge modpack by The FTB Team. Like Monster for 1.6.4, FTB Unleashed for 1.5.2, and FTB Ultimate for 1.4.7, this modpack is a general-purpose modpack containing over 150 mods. It is designed for an average player, who wants all kinds of mods of different styles. Its purpose is also for small to medium sized servers, though, due to its massive mod list, it is not recommended for larger servers.
In October 2015, Infinity's name was changed to Infinity Evolved, (and its release versions were bumped to 2.0.0) and featured the addition of two notable new mods: FTB Utilities and FTB Tweaks. The most significant addition from this was the creation of two difficulties: normal mode and Expert Mode. With FTB Tweaks, these difficulties could be exchanged on the fly, without even a server restart. Infinity Evolved Expert Mode (commonly abbreviated as "IE:E") featured many, many recipe changes intended to force players to use every major mod in the pack to reach their end-game goals, and added a series of Extreme Crafting Recipes for certain items normally obtainable only in Creative Mode.
Main Menu
Old Logo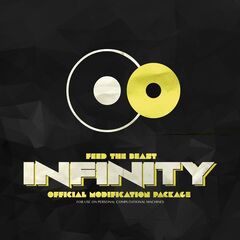 Mods included
The full modlist can also be found here
Official Feed The Beast modpacks

1.16 modpacks

FTB Endeavour

Unstable

FTB Cotton

FTB Academy 1.16

1.15 modpacks

1.14 modpacks

1.12 modpacks

1.10.2 modpacks

1.9.4 modpacks

1.8.9 modpacks

1.7.10 modpacks

MOTM: Botania

PAX Prime 2015 Challenge

1.6.4 modpacks

1.5.2 modpacks

1.4.7 modpacks

1.4.2 modpacks

1.2.5 modpacks

Comparisons