Electric Shunting Wire


Mod
Railcraft
Type
Solid block
Tooltip text
Connect Electric Track across gaps
Place under Track using Wire Support Frames
Required modules
Electricity
Energy
Charge storage
1000.00
Energy loss
0.25 per tick
The Electric Shunting Wire is a block from Railcraft. It is used to transfer the Railcraft power that is used by Electric Tracks and Electric Locomotives. This energy can be created by using an Electric Feeder Unit. The Electric Shunting Wire has an energy loss rate of 0.25 per tick, and can store 1000.00 energy. To power a track, the wire must be placed inside of the Wire Support Frames that the tracks are on.
Recipe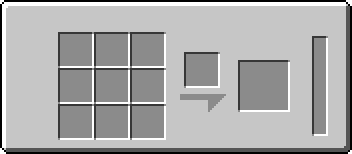 Railcraft
 

Resources

Raw

 

Refined

·  ·  ·  ·  ·  ·  ·  ·  ·  ·  ·  ·  ·  ·  ·  ·  ·  ·

 

Liquids

·

 
 

Tracks

Carts

·  ·  ·  ·  ·  ·  ·  ·  ·  ·  ·  ·  ·  ·  ·  ·  ·  ·  ·  ·  ·  ·

 

Signaling and Switching

·  ·  ·  ·  ·  ·  ·  ·  ·  ·  ·  ·  ·  ·  ·

 

Wooden Tracks

·  ·  ·  ·

 

Standard Tracks

·  ·  ·  ·

 

Reinforced Tracks

·  ·  ·  ·

 

H.S Tracks

·  ·  ·  ·

 

Electric Tracks

·  ·  ·

 

Other Tracks

·  ·  ·  ·  ·  ·  ·  ·  ·  ·  ·  ·  ·  ·  ·  ·  ·  ·  ·  ·  ·  ·  ·

 

Legacy Tracks

·  ·  ·

 
 

Tools

·  ·  ·  ·  ·

 

Crowbars

·  ·  ·

 

Forestry Backpacks

·  ·  ·  ·  ·

 

Misc

·  ·  ·  ·  ·

 
 

Components

Circuits

·  ·

 

·  ·  ·

 

·  ·

 

Rails

·  ·  ·  ·  ·  ·  ·  ·  ·  ·  ·

 

Misc

·  ·  ·  ·  ·  ·  ·

 
 

Misc

Misc

·  ·

 

Aesthetic Blocks

·  ·  ·  ·  ·  ·  ·  ·  ·  ·  ·  ·  ·  ·  ·  ·  ·  ·

Slabs

 ·

Walls

 ·

Stairs

 

Enchantments

Wrecking

 ·

Implosion

 ·

Destruction

World