Dust
This page is about the Dust block added by Ex Nihilo. For the material form, see Dusts.
Dust


Mod
Ex Nihilo
Type
Solid block
Properties
Stackable
64
Dust is a block added by the Ex Nihilo mod.
Obtaining
Mining Sand with a Hammer will drop Dust.
Mining Extra Utilities Compressed Sand with an Ex Compressum Compressed Hammer will drop 9 Dust.
Ex Compressum
An Auto Hammer can process Sand into Dust. Dust can be crafted from Compressed Dust.
Magical Crops
Dust can be crafted from Earth Essence and Fire Essence.
Thermal Expansion
Dust can be pulverized from Sand, and has a 10% chance to drop when Sand is pulverized from Gravel.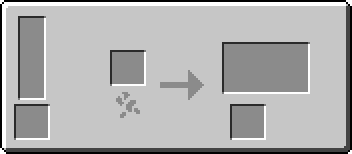 (10%)

Usage
When placed in the world without a supporting block, Dust will fall like Sand.
Barrel
Right-clicking on a Water-filled Barrel with Dust will change the Barrel's contents to Clay which can be removed by right-clicking the Barrel.
Sieve
Right-clicking on a Sieve with Dust may produce various materials.
Ex Compressum
Dust can be crafted into Compressed Dust.
Ex Nihilo
 

Blocks

Processing

· ( ) ·

( ) 

Materials

·  ·  ·  ·  ·

 

Other

· ( ) ·  ·

 
 

Items

Materials

·  ·  ·  ·  ·  · ( ) ·

 

Seeds

·  ·  ·  ·  ·  ·  ·  ·  ·  ·  ·

 

Tools

·  · ( ) ·  ·  ·