Fire Emblem Warriors: Three Hopes - The Loop
Play Sound
Dark Matter Pedestal


Mod
ProjectE
Type
Machine
Energy
EMC value
4,653,056 EMC
The Dark Matter Pedestal is a utility device added by ProjectE, based on the DM Pedestal added by Equivalent Exchange 2.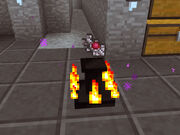 The Dark Matter Pedestal can hold a ProjectE utility item, such as the Black Hole Band, and asymmetrically project the effect in a 10x10x10 area centered around the pedestal's upper southeast corner. Valid items include those listed in the Baubles and Misc Utilities sections from the navigation bar at the bottom of this article.
An item can be placed on the pedestal by right-clicking it. Right-clicking it with an empty hand toggles the effects on or off. When the pedestal is active, small flames appear around the base. Items placed on the Dark Matter Pedestal can be removed by left-clicking on the Pedestal.
Recipe
ProjectE
 

Blocks

Chests

EMC generators

EMC consumers

Explosives


 

Nova Catalyst


 

Nova Cataclysm

Storage blocks

Misc
 

Items

Klein Stars

Dust

Fuel

Baubles


 

Ignition Ring


 

Zero Ring


 

Swiftwolf's Rending Gale


 

Watch of Flowing Time


 

Void Ring


 

Ring of Arcana


 

Body Stone


 

Soul Stone


 

Mind Stone


 

Life Stone


 

Evertide Amulet


 

Volcanite Amulet

Dark Matter armor

Red Matter armor

Gem armor

Dark Matter tools


 

Dark Matter Axe


 

Dark Matter Shovel


 

Dark Matter Sword


 

Dark Matter Hoe


 

Dark Matter Shears


 

Dark Matter Hammer

Red Matter tools


 

Red Matter Pickaxe


 

Red Matter Axe


 

Red Matter Shovel


 

Red Matter Sword


 

Red Matter Hoe


 

Red Matter Shears


 

Red Matter Hammer


 

Red Katar


 

Red Morningstar

Misc utilities


 

Archangel's Smite


 

Harvest Goddess Band


 

Divining Rod (medium)


 

Divining Rod (high)


 

Mercurial Eye


 

Destruction Catalyst


 

Hyperkinetic Lens


 

Catalytic Lens


 

Book of the Alchemist (WIP)

Components