Roblox: DeepWoken - The Loop
Play Sound
Cupronickel, also known as Constantan, is a metal added by GregTech 5, GregTech 6, Immersive Engineering, Thermal Foundation and Substratum. It is a mix of Copper and Nickel.
GregTech 6
As added by GregTech 6
Constantan can be made by Crucible Smelting Copper and Nickel by 1:1 mixture. Also, Constantan can be made by mixing Molten Copper and Nickel in mixer. Molten forms can be made by Smelter.
Factory Tech
As added by Factory Tech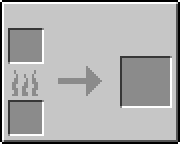 GregTech 5
As added by GregTech 5
Immersive Engineering
As added by Immersive Engineering