Raise a Floppa - The Loop
Play Sound
Crop-Matron


Mod
IndustrialCraft 2
Type
Machine
Energy
Max EU input
32 EU/t
EU use
1 EU/t
EU storage
900 EU
The Crop-Matron is a machine in IndustrialCraft 2 that is used to maintain Crops. It can apply Fertilizer, Hydration Cells, and Weed-EX as needed.
Recipe
Usage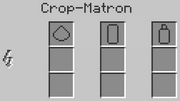 The left column in the Crop-Matron GUI are the Fertilizer slots; Fertilizer goes there. The center column in the GUI is the Hydration Cell column; Hydration Cells go in these slots. Lastly, the slots on the right is the Weed-EX column; Weed-EX canisters are placed there.
While operating, the Crop-Matron will use approximately 1 EU per tick. The Crop-Matron's internal battery can hold 900 EU.
In older versions, the Crop-Matron could only handle Low Voltage Energy by default; any more than 32 EU per tick would cause the machine to explode violently. However, Experimental changes make the machine not longer react in such a way.
Any material for the Hydration Cell slots needs to come from the top of the Crop-Matron, while anything for the Weed-EX slots should come from the bottom. Anything for the Fertilizer slots can come from the sides of the machine.
IndustrialCraft 2
 

Armor

Bronze

·  ·  ·

 

Nano

·  ·  ·  ·

 

Quantum

·  ·  ·

 

Hazmat

·  ·  ·

 

Utility

·  ·  ·  ·  ·  ·  ·  ·  ·

 
 

Agriculture

Blocks

·  ·  ·

 

Items

·  ·  ·  ·  ·  ·  ·  ·  ·  ·  ·  ·  ·

 
 

Energy and Wiring

·  ·  ·  ·  ·  ·

 

EU Storage Blocks

·  ·  ·

 

EU Charge Pads

·  ·  ·

 

EU Storage Items

·  ·  ·  ·  ·  ·

 

Transformers

·  ·  ·

 
 

Machines

Components

·  ·  ·  ·

 

Gatherers

·  ·  ·  ·  ·

 

Generators

·  ·  ·  ·  ·  ·  ·  ·

 

Processors

·  ·  ·  ·  ·  ·  ·  ·  ·  ·  ·  ·  ·  ·

 

UU-Matter Production

·  ·  ·

 

Utility

Item Based

·  ·  ·  ·  ·  ·  ·  ·

 

Fluid Based

·  ·  ·  ·

 

Other

·  ·  ·  ·

 

Upgrades

·  ·  ·  ·  ·  ·  ·  ·  ·

 

Terraforming

·  ·  ·  ·  ·  ·

 

Components

·

 

Producers

·  ·  ·  ·

 

Acceptors

·  ·  ·  ·

 

Components

Shafts

·

 

Rotor Blade

·  ·  ·

 

Kinetic Gearbox Rotor

·  ·  ·

 

·

 

Producers

·  ·  ·  ·  ·

 

Acceptors
 

Nuclear Reactor Components

Multiblock Components

·  ·  ·  ·  ·

 

Cooling

·  ·  ·  ·  ·  ·

 

Heat Management

·  ·  ·  ·  ·  ·

 

Plating

·  ·

 

Radioactive

·  ·

 

Depleted Uranium

·  ·

 

MOX

·  ·

 

Depleted MOX

·  ·

 

Pellets

·  ·

 

Other

·

 

Reflectors

·  ·

 
 

Resources

Raw

·  ·  ·  ·  ·  ·  ·  ·

 

Refined

Metal

·  ·  ·  ·  ·  ·  ·  ·  ·  ·

 

Other

·  ·  ·  ·  ·  ·  ·  ·  ·  ·

 

Advanced

·  ·  ·  ·  ·  ·  ·  ·  ·  ·  ·  ·  ·  ·  ·

 

Building

·  ·  ·  ·  ·  ·  ·  ·  ·  ·  ·

 

Destruction

·  ·

 

Radioactive

·  ·  ·  ·  ·  ·  ·

 

Byproducts

·

 

Crafting

·  ·  ·  ·  ·  ·  ·

 

Processed Ore

Crushed Ore

·  ·  ·  ·  ·  ·

 

Purified Crushed Ore

·  ·  ·  ·  ·  ·

 

Dust

Metal

·  ·  ·  ·  ·  ·  ·  ·

 

Other

·  ·  ·  ·  ·  ·  ·  ·  ·

 

Tiny Piles of Dust

Metal

·  ·  ·  ·  ·  ·  ·

 

Other

·  ·

 

·  ·  ·  ·  ·  ·  ·  ·  ·  ·  ·  ·  ·  ·  ·

 
 

Tools

Mundane

·  ·  ·  ·

 

Powered

·  ·  ·  ·  ·  ·  ·  ·  ·  ·  ·

 

Transmitters

·

 

Utility

·  ·  ·  ·  ·  ·  ·  ·  ·  ·  ·  ·

 

Boats

·  ·  ·

 
 

Legacy Items

Agriculture

·

 

Turning Table

·  ·  ·

 

Nuclear Reactors

·  ·  ·  ·  ·  ·  ·

 

Cells

·  ·  ·

 

Fuel

·  ·  ·  ·  ·  ·

 

Building