Crafting Module


Mod
GregTech 4
Type
Cover
Tooltip text
A Workbench on a Cover
The Crafting Module is a cover added by GregTech 4. Right-clicking the cover will give access to a Crafting Table interface.
The Crafting Module can be applied to any side of a machine by right-clicking a side. It can be removed by right-clicking the cover with a Wrench.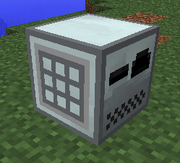 Recipe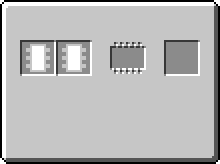 EU: 12,800
Time: 40 secs
MaxEnergy: 16 EU/t
GregTech 4
 

Energy

Generators

·  ·  ·  ·  ·  ·  ·  ·  ·  ·

 

EU Storage

·  ·  ·  ·  ·  ·  ·  ·  ·  ·

 

Nuclear Reactor Components

·  ·  ·  ·  ·  ·  ·  ·  ·  ·  ·  ·  ·

 

·  ·  ·  ·

 

Misc. energy

·

 

Multiblock Generators

·  ·  ·  ·  ·  ·  ·  ·  ·  ·

 
 

Processed Components

Machine Blocks

·  ·  ·  ·  ·  ·  ·

 

Circuits

·  ·  ·  ·  ·  ·  ·

 

Heating Coils

·  ·

 

Hulls

·  ·  ·  ·  ·  ·  ·  ·  ·

 

Miscellaneous

·  ·  ·  ·  ·  ·  ·  ·  ·

 

Upgrades

·  ·  ·  ·  ·  ·  ·  ·  ·  ·

 

Covers

·  ·  ·  ·  ·  ·  ·  ·  ·  ·  ·  ·  ·  ·  ·  ·  ·  ·  ·  ·

 

Turbine Blades

·  ·  ·  ·

 

Gears

·  ·  ·  ·  ·

 
 

Machines

Processing

Furnaces

·  ·  ·

 

Smelters

·

 

Blast Furnaces

·

 

Grinding

·  ·  ·

 

Slicing

·  ·  ·

 

Separation

·  ·

 

Compression

·  ·

 

Combining

·  ·  ·

 

Extraction

·

 

Smashing

·

 

Scrap

·

 

Other

·

 

Automation

Crafting

·  ·

 

Interaction

·  ·  ·

 

Buffers

·  ·  ·

 

Sorting

·  ·

 

Managers

·

 

Translocators

·

 

Sound

·

 

Interdimensional

·  ·

 

Redstone

·  ·  ·  ·

 

Storage

Dense

·  ·  ·

 

Aesthetic

·  ·  ·  ·

 

Pipes

Item Pipe

·

 

Large Item Pipe

·

 

Fluid Pipe

·  ·  ·

 

Large Fluid Pipe

·  ·  ·

 

Other

·  ·  ·

 
 

Tools & Utilities

Credits

·  ·  ·  ·  ·  ·  ·  ·  ·  ·  ·  ·  ·  ·  ·

 

Hammers

·  ·

 

Wrenches

·  ·  ·  ·  ·

 

Other Tools

·  ·  ·  ·  ·  ·  ·  ·  ·  ·  ·  ·  ·  ·  ·

 

Digging Tools

·  ·  ·  ·

 

Wearables

·  ·  ·  ·

 

Soldering

·  ·

 

Turbine Rotors

·  ·  ·  ·

 

Saws

·  ·  ·  ·  ·

 

Spray Cans

·  ·  ·  ·  ·  ·  ·  ·  ·  ·  ·  ·  ·  ·  ·  ·  ·  ·  ·  ·  ·  ·

 

Files

·  ·  ·

 

Flint Tools

·  ·  ·  ·

 

Steel Tools

·  ·  ·  ·

 

Tungstensteel Tools

·  ·  ·  ·

 

Extruder Shapes

·

 
 

Resources

·  ·  ·  ·  ·  ·  ·  ·  ·  ·  ·  ·  ·  ·  ·  ·  ·  ·  ·  ·

 

·  ·  ·  ·  ·

 

·  ·  ·  ·  ·  ·  ·  ·  ·  ·  ·  ·  ·  ·  ·  ·  ·  ·  ·  ·  ·  ·  ·  ·  ·  ·  ·  ·

 

·  ·  ·  ·  ·  ·  ·  ·  ·  ·  ·  ·  ·  ·  ·  ·  ·  ·  ·

 

·  ·  ·  ·  ·  ·  ·  ·  ·  ·  ·  ·  ·  ·

 

·  ·  ·  ·  ·  ·  ·  ·  ·  ·  ·  ·  ·  ·  ·  ·  ·  ·  ·  ·  ·  ·  ·  ·  ·  ·  ·  ·  ·  ·  ·  ·  ·  ·  ·  ·  ·  ·  ·  ·

 

·  ·  ·  ·  ·  ·  ·  ·  ·  ·  ·  ·  ·  ·  ·  ·  ·  ·  ·  ·  ·

 
 

Resources (Dusts)

·  ·  ·  ·  ·  ·  ·  ·  ·  ·  ·  ·  ·  ·  ·  ·  ·  ·  ·  ·  ·  ·  ·  ·  ·  ·  ·  ·  ·  ·  ·  ·  ·  ·  ·  ·  ·  ·  ·  ·  ·  ·  ·  ·  ·  ·  ·  ·  ·  ·  ·  ·  ·  ·  ·  ·  ·  ·  ·  ·  ·  ·  ·  ·  ·  ·  ·  ·  ·  ·  ·

 

·  ·  ·  ·  ·  ·  ·  ·  ·  ·  ·  ·  ·  ·  ·  ·  ·  ·  ·  ·  ·  ·  ·  ·  ·  ·  ·  ·  ·  ·  ·  ·  ·  ·  ·  ·  ·  ·  ·  ·  ·  ·  ·  ·  ·  ·  ·  ·  ·  ·  ·  ·  ·  ·  ·  ·  ·  ·  ·  ·  ·  ·  ·  ·  ·  ·  ·  ·  ·  ·  ·  ·  ·  ·  ·

 

·  ·  ·  ·  ·  ·  ·  ·  ·  ·  ·  ·  ·  ·  ·  ·  ·  ·  ·  ·  ·  ·  ·  ·  ·  ·  ·  ·  ·  ·  ·  ·  ·  ·  ·  ·  ·  ·  ·  ·  ·  ·  ·  ·  ·  ·  ·  ·  ·  ·  ·  ·  ·  ·  ·  ·  ·  ·  ·  ·  ·  ·  ·  ·  ·  ·  ·  ·  ·  ·  ·  ·  ·  ·  ·

 
 

Resources (Gases, Liquids, Plasmas & Cells)

Pure Chemical Element Cells

·  ·  ·  ·  ·  ·  ·  ·  ·  ·  ·  ·  ·  ·  ·  ·  ·

 

Chemical Compound Cells

·  ·  ·  ·  ·  ·  ·  ·  ·  ·  ·  ·  ·  ·  ·

 
 

Agriculture/Food

Crops

·  ·  ·  ·  ·  ·  ·  ·  ·  ·  ·  ·  ·  ·  ·  ·  ·  ·  ·  ·  ·  ·

 

Products

·  ·  ·

 

Foods

·  ·  ·

 
 

Useful Information

Books

·  ·  ·  ·  ·  ·  ·  ·  ·  ·  ·  ·  ·  ·  ·