This page is about the Chunk Loader added by IndustrialCraft 2. For other uses, see Chunk Loader.
Chunk Loader


Mod
IndustrialCraft 2
Type
Machine
The Chunk Loader is a device that forces arbitrary chunks to remain loaded even when players are absent. It can only maintain 25 chunks and can be fed power directly from the BatBox. 1 Energy Unit per tick (EU/t) is consumed per chunk.
Recipe
Interface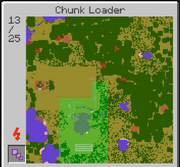 The center chunk (where the Loader is placed) is automatically selected. Selected chunks are highlighted in green.
IndustrialCraft 2
 

Armor

Bronze

·  ·  ·

 

Nano

·  ·  ·  ·

 

Quantum

·  ·  ·

 

Hazmat

·  ·  ·

 

Utility

·  ·  ·  ·  ·  ·  ·  ·  ·

 
 

Agriculture

Blocks

·  ·  ·

 

Items

·  ·  ·  ·  ·  ·  ·  ·  ·  ·  ·  ·  ·

 
 

Energy and Wiring

·  ·  ·  ·  ·  ·

 

EU Storage Blocks

·  ·  ·

 

EU Charge Pads

·  ·  ·

 

EU Storage Items

·  ·  ·  ·  ·  ·

 

Transformers

·  ·  ·

 
 

Machines

Components

·  ·  ·  ·

 

Gatherers

·  ·  ·  ·  ·

 

Generators

·  ·  ·  ·  ·  ·  ·  ·

 

Processors

·  ·  ·  ·  ·  ·  ·  ·  ·  ·  ·  ·  ·  ·

 

UU-Matter Production

·  ·  ·

 

Utility

Item Based

·  ·  ·  ·  ·  ·  ·  ·

 

Fluid Based

·  ·  ·  ·

 

Other

·  ·  ·  ·

 

Upgrades

·  ·  ·  ·  ·  ·  ·  ·  ·

 

Terraforming

·  ·  ·  ·  ·  ·

 

Components

·

 

Producers

·  ·  ·  ·

 

Acceptors

·  ·  ·  ·

 

Components

Shafts

·

 

Rotor Blade

·  ·  ·

 

Kinetic Gearbox Rotor

·  ·  ·

 

·

 

Producers

·  ·  ·  ·  ·

 

Acceptors
 

Nuclear Reactor Components

Multiblock Components

·  ·  ·  ·  ·

 

Cooling

·  ·  ·  ·  ·  ·

 

Heat Management

·  ·  ·  ·  ·  ·

 

Plating

·  ·

 

Radioactive

·  ·

 

Depleted Uranium

·  ·

 

MOX

·  ·

 

Depleted MOX

·  ·

 

Pellets

·  ·

 

Other

·

 

Reflectors

·  ·

 
 

Resources

Raw

·  ·  ·  ·  ·  ·  ·  ·

 

Refined

Metal

·  ·  ·  ·  ·  ·  ·  ·  ·  ·

 

Other

·  ·  ·  ·  ·  ·  ·  ·  ·  ·

 

Advanced

·  ·  ·  ·  ·  ·  ·  ·  ·  ·  ·  ·  ·  ·  ·

 

Building

·  ·  ·  ·  ·  ·  ·  ·  ·  ·  ·

 

Destruction

·  ·

 

Radioactive

·  ·  ·  ·  ·  ·  ·

 

Byproducts

·

 

Crafting

·  ·  ·  ·  ·  ·  ·

 

Processed Ore

Crushed Ore

·  ·  ·  ·  ·  ·

 

Purified Crushed Ore

·  ·  ·  ·  ·  ·

 

Dust

Metal

·  ·  ·  ·  ·  ·  ·  ·

 

Other

·  ·  ·  ·  ·  ·  ·  ·  ·

 

Tiny Piles of Dust

Metal

·  ·  ·  ·  ·  ·  ·

 

Other

·  ·

 

·  ·  ·  ·  ·  ·  ·  ·  ·  ·  ·  ·  ·  ·  ·

 
 

Tools

Mundane

·  ·  ·  ·

 

Powered

·  ·  ·  ·  ·  ·  ·  ·  ·  ·  ·

 

Transmitters

·

 

Utility

·  ·  ·  ·  ·  ·  ·  ·  ·  ·  ·  ·

 

Boats

·  ·  ·

 
 

Legacy Items

Agriculture

·

 

Turning Table

·  ·  ·

 

Nuclear Reactors

·  ·  ·  ·  ·  ·  ·

 

Cells

·  ·  ·

 

Fuel

·  ·  ·  ·  ·  ·

 

Building