This page is about the Chopping Block added by Better With Mods. For other uses, see Chopping Block.
Chopping Block


Mod
Better With Mods
Type
Solid block
Properties
Hardness
1.5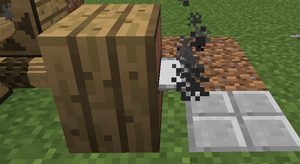 The Chopping Block is a decorative and functional block added by Better With Mods. When used with a mechanically powered Saw, Chopping Blocks will increase the chance of beheading mobs. Chopping blocks also increase the damage output of the saw by a factor of three.
When a mob dies through this method, the Chopping Block will become a Bloodied Chopping Block, which can be "cleaned" using Soap.
Recipe
Better With Mods
 

Blocks

Decorative

Wooden

Grates

·  ·  ·  ·  ·

 

Slats

·  ·  ·  ·  ·

 

Benches

·  ·  ·  ·  ·

 

Tables

·  ·  ·  ·  ·

 

Chimes

Bamboo Chimes

·  ·  ·  ·  ·

 

Wind Chimes

·  ·  ·  ·  ·

 

Minimized Blocks

Vases

·  ·  ·  ·  ·  ·  ·  ·  ·  ·  ·  ·  ·  ·  ·

 

Candles

·  ·  ·  ·  ·  ·  ·  ·  ·  ·  ·  ·  ·  ·  ·  ·

 

Miscellaneous

Slabs

·  ·

 

Stones

Other

·  ·  ·  ·  ·  ·  ·  ·  ·  ·  ·  ·  ·  ·  ·  ·  ·

 

Functional

Devices

Mechanical Devices

·  ·  ·  ·  ·  ·  ·  ·  ·  ·  ·  ·  ·

 

Redstone Devices

·  ·  ·  ·  ·  ·  ·  ·

 

Mechanical Generators

Ceramics

Other

Urns

·  ·  ·

 

Planters

·  ·  ·  ·  ·  ·  ·  ·  ·  ·

 

·  ·  ·  ·  ·  ·  ·  ·  ·  ·  ·  ·  ·

 
 

Items

Tools and Armour

Tools

·  ·  ·  ·  ·  ·  ·  ·  ·  ·

 

Armor

·  ·  ·  ·  ·  ·  ·  ·  ·  ·  ·  ·

 

Materials

Bark

·  ·  ·  ·  ·  ·

 

Piles

·  ·  ·

 

Dusts

·  ·  ·  ·

 

·  ·  ·  ·  ·  ·  ·  ·  ·  ·  ·  ·  ·  ·  ·  ·  ·  ·  ·  ·  ·  ·  ·  ·  ·  ·  ·

 

Components

·  ·  ·  ·  ·  ·  ·  ·  ·  ·  ·  ·  ·  ·  ·  ·  ·  ·  ·  ·  ·  ·  ·

 

Food

·  ·  ·  ·  ·  ·  ·  ·  ·  ·  ·  ·  ·  ·  ·  ·  ·  ·  ·  ·  ·  ·  ·  ·  ·  ·  ·  ·  ·  ·  ·  ·

 

Miscellaneous

·  ·  ·  ·  ·