Chocolate Cookie Cake


Mod
XL Food Mod
Type
Solid block
Properties
Blast resistance
2.5
Hardness
0.5
The Chocolate Cookie Cake is a block added by XL Food Mod. The cake behaves the same as the vanilla cake, except that the cake can be stacked up to 64.
Recipe
Note: The buckets will only be emptied, not consumed.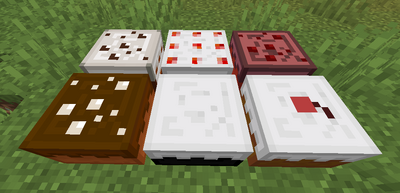 XL Food Mod
Blocks

·  ·

 
Food

Raw Food

·  ·  ·  ·  ·  ·  ·  ·  ·

 

Cheese Products

·  ·  ·  ·

 

Cakes

·  ·  ·  ·  ·

 

Bread/Doughwares

·  ·  ·  ·  ·  ·  ·  ·  ·  ·  ·  ·  ·  ·

 

Stuff in Bread

·  ·  ·  ·  ·  ·  ·  ·  ·  ·  ·  ·  ·  ·  ·  ·  ·

 

Sushi

·  ·  ·

 

Soups & Salads

·  ·  ·  ·  ·  ·  ·  ·  ·  ·

 

Sweets

·  ·  ·  ·  ·  ·  ·  ·  ·  ·  ·  ·  ·  ·  ·  ·  ·  ·

 

Ice

·  ·  ·  ·  ·  ·

 

Pies

·  ·  ·  ·  ·  ·  ·

 

Drinks/Liquids

·  ·  ·  ·  ·  ·  ·  ·  ·  ·  ·  ·  ·

 

Meat

·  ·  ·  ·  ·  ·  ·  ·  ·

 

Rice

·  ·  ·

 

Seeds

·  ·  ·  ·  ·

 
Other

·  ·  ·  ·  ·