Cardboard Box (Mekanism)
This page is about the Cardboard Box added by Mekanism. For other uses, see Cardboard Box.
Cardboard Box


Mod
Mekanism
Type
Solid block
Properties
Blast resistance
3
Hardness
0.5
Stackable
Yes (16)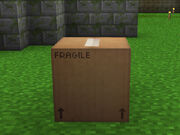 The Cardboard Box is a block added by Mekanism. The Cardboard Box is used to wrap tile entities (such as machines) so they can be safely harvested and relocated. Once placed in the new location, the Cardboard Box can be removed by shift-right-clicking. Cardboard boxes cannot be removed in the player's inventory, only when placed in the world.
Recipe
Mekanism
 

Armor

Bronze

Glowstone

Lapis Lazuli

Obsidian

Osmium

Steel
 

Resources

Ore

Ingot

Clump

Crystal

Dust

Shard

Blocks

Materials

Fuel
 

Blocks

Blocks

Machines

Basic

Advanced

Elite

Ultimate

Creative

Pipes, Tubes and Cables

Basic

Advanced

Elite

Ultimate

Plastic

Balloon

Barrier

Block

Glow Block

Glow Panel

Road

Reinforced Block

Slick Block
 

Items

Components

Items

Tools

Bronze

Diamond

Glowstone

Gold

Iron

Lapis Lazuli

Obsidian

Osmium

Steel

Stone

Wood

Weapons

Upgrades
 

Multiblock structures

Multiblock structures