Blue Castle Rune Brick


Mod
Twilight Forest
Type
Solid block
Properties
Blast resistance
45
Hardness
100
The Blue Castle Rune Brick is a block added by the Twilight Forest.
It is used in the construction of Final Castle. It can be harvested but has no crafting recipe. The rune displayed is dependent on its coordinates and cannot be set by the player.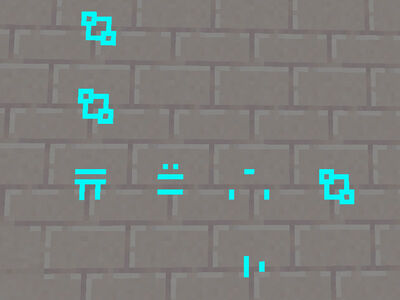 Twilight Forest
 

Blocks

General

·  ·  ·  ·  ·  ·  ·  ·  ·  ·  ·  ·  ·  ·  ·  ·  ·  ·  ·  ·  ·  ·  ·  ·  ·  ·  ·

 

Plants

·  ·  ·  ·  ·  ·  ·  ·  ·  ·  ·  ·

 

Leaves

·  ·  ·  ·  ·  ·  ·  ·  ·  ·  ·

 

Wood

·  ·  ·  ·  ·  ·  ·  ·  ·  ·  ·

 

Nagastone

·  ·  ·  ·  ·  ·  ·  ·  ·  ·  ·  ·  ·

 

Mazestone

·  ·  ·  ·  ·  ·  ·

 

Underbrick

·  ·

 

Towerwood

·  ·  ·  ·

 

Dark Tower Devices

·  ·  ·  ·  ·  ·  ·  ·  ·

 

Aurora Blocks

·  ·

 

Giant

·  ·  ·

 

Deadrock

·  ·

 

Castle Brick

·  ·  ·  ·  ·  ·  ·  ·  ·  ·  ·  ·  ·  ·  ·  ·  ·  ·  ·  ·

 

Trophies

·  ·  ·  ·  ·  ·  ·

 
 

Items

Armor

Arctic

·  ·  ·

 

·  ·  ·

 

·  ·  ·

 

·  ·  ·

 

·

 

Phantom

·

 

·  ·  ·

 

Yeti

·  ·  ·

 

Tools

·

 

Giant

·

 

·  ·  ·  ·

 

·  ·  ·

 

·  ·  ·  ·

 

Bows

·  ·  ·

 

Scepters

·  ·  ·

 

Other

·  ·  ·  ·

 

Utility

Charms

·  ·  ·  ·

 

Maps

·  ·

 

Other

·  ·  ·  ·  ·  ·  ·

 

Resources

Raw

·  ·  ·  ·  ·  ·  ·  ·  ·  ·  ·  ·  ·

 

Refined

·  ·  ·  ·  ·

 

Food

·  ·  ·  ·  ·  ·  ·

 

Books

·  ·  ·  ·  ·  ·  ·  ·

 
 

Other

Entities

Passive

·  ·  ·  ·  ·  ·  ·  ·

 

Hostile

·  ·  ·  ·  ·  ·  ·  ·  ·  ·  ·  ·  ·  ·  ·  ·  ·  ·  ·  ·  ·  ·  ·  ·  ·  ·  ·  ·  ·  ·  ·  ·  ·  ·  ·

 

Boss

·  ·  ·  ·  ·  ·  ·  ·

 

World